Rapper Pablo Hasél arrested in Lleida University after conviction for lyrics
Musician had barricaded himself after expiration of 10-day window he was granted to turn himself in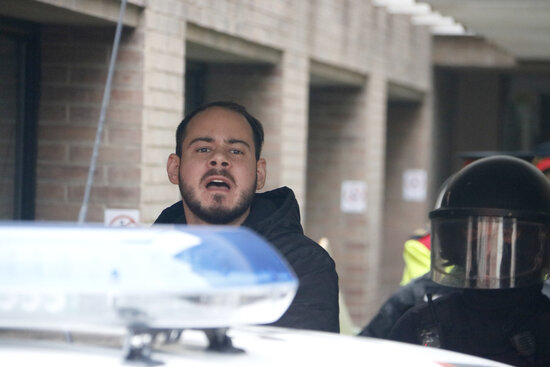 Rapper Pablo Hasél was arrested at the University of Lleida, in western Catalonia, on Tuesday at 8.30 am by the Catalan Mossos police force.
Spain's National Court sentenced Hasél to two years and nine months behind bars for two separate cases relating to the content of some of his songs and tweets as they were deemed to be "glorification of terrorism" as well as slandering the crown and Spanish law enforcement.
Hasél barricaded himself inside the university on Monday, after the 10-day window he was granted to turn himself in voluntarily was up.
The Mossos d'Esquadra police operation began early on Tuesday morning when officers removed the Hasél supporters who, with chairs and desks, had barricaded themselves inside the university with him one by one. Police ended up arresting the musician inside the institution's rector's office.
The Catalan rapper had made clear on Monday that he would not turn himself in: "I'm locked inside the University of Lleida with many supporters, they'll have to blow it up to arrest me and put me in prison," he said in a tweet.
Conviction rejected arguing freedom of speech
Hasél's case has attracted media attention for a long time as his sentence prioritized the Spanish criminal code at the expense of freedom of speech.
Last Thursday, 60 cultural groups held an online protest, organized by the Catalan Academy of Music, while around 140 writers and journalists released a new manifesto defending the rapper a day before the court's prison deadline.
"Today it is Pablo Hasél, tomorrow it will be any other creator or performer from any other discipline," the event's manifesto read.
Jordi Évole, Rosa María Calaf, Manuel Rivas and Maruja Torres, were amongst the writers and journalists who released a statement in support of Hasél stating rap "is not a crime," even if the lyrics are unpleasant.
Thursday's outpourings of support followed on from another manifesto released earlier last week, entitled 'Without freedom of speech there is no democracy', whose 200 signatories included luminaries such as Catalan singer Joan Manuel Serrat, Spanish film director Pedro Almodóvar and actors Javier Bardem, Alba Flores and Aitana Sánchez Gijón.
No prison for 'verbal excesses'
Last Monday, the Spanish government said that it would propose not punishing "verbal excesses" in the arts with prison sentences.
The executive suggested that only behaviors that can "clearly" lead to risk against public order or spark violence would require prosecution, but never imprisonment.