Rapper Pablo Hasel's imprisonment: fifth night of protests in Catalonia
Large chain stores were looted and at least 15 people were arrested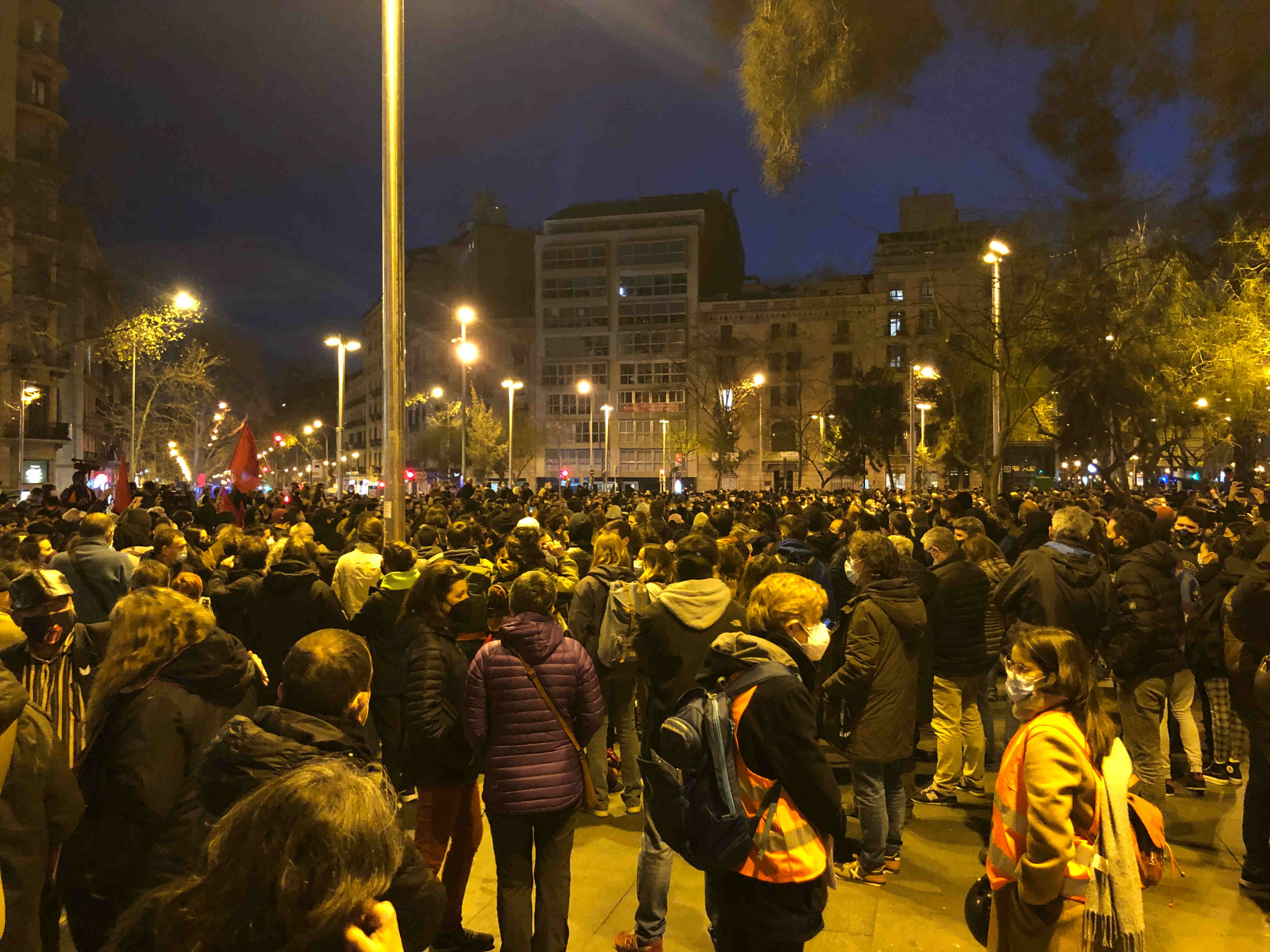 Demonstrations against rapper Pablo Hasel's imprisonment continued for a fifth night in a row in Catalonia on Saturday.
Taking place simultaneously in cities and towns including Barcelona, Lleida, Reus, Mataró, or Tarragona, the overwhelmingly young protesters seek the musician's immediate release in the name of freedom of expression, although their frustrations have also been aggravated by poor employment prospects and pandemic-related grievances. In addition to this, they call for an end to the monarchy and police violence.
The rally in the Catalan capital started out peacefully with a few thousand people at Plaça Universitat, but protesters eventually split up into different directions and, as has been the case other nights this week, a number of them have set dumpster barricades on fire and there have been some moments of tension between law enforcement and demonstrators.
Some people threw stones at the Palau de la Música concert hall, while large chain stores, such as Nike, Desigual or Adidas, on the city's exclusive Passeig de Gràcia avenue have been looted. At one point there was a small fire outside the Barcelona Stock Exchange building, also on Passeig de Gràcia, but firefighters were able to put it out quickly.
At least 15 people were arrested on Saturday. The interior minister of the Catalan government, Miquel Sàmper, condemned the altercations. "They have gone from demonstrating for ideological reasons to carrying out acts of pure vandalism," he said.
Nightly disturbances
Protesters have taken to the streets of Catalonia and other parts of Spain since Tuesday, which is when Pablo Hasel was detained after failing to hand himself in to the authorities voluntarily to serve his sentence.
Overwhelmingly peaceful, these rallies have descended into violent clashes between demonstrators and police night after night, although Thursday evening was slightly calmer than previous nights this week.
All in all, dozens of protesters and officers have been injured, including a 19-year-old woman who lost an eye to a foam bullet shot by the police in the Catalan capital, or arrested. Demonstrators have also burned dumpsters and a handful of cars and motorcycles, smashed bank office windows, and those of El Periódico newspaper's headquarters.
Why was Pablo Hasel arrested?
The musician was arrested in his hometown of Lleida on Tuesday to serve time behind bars for two separate cases in which he was found guilty of "glorifying terrorism" and "slander against the monarchy" in his songs and tweets.
It is unclear how much time Hasel will be imprisoned for due to other ongoing legal cases against him, although he has been sentenced to two years and nine months for the two cases for which he is currently in jail.
The rapper's imprisonment has reignited the debate on freedom of expression in Spain as Hasel sympathizers argue the law is not enforced fairly.
Follow our live updates here: