'Rapping is not a crime': Artists and writers rally to support convicted musician
Online protest and new manifesto released ahead of tomorrow's deadline for Pablo Hasél to enter prison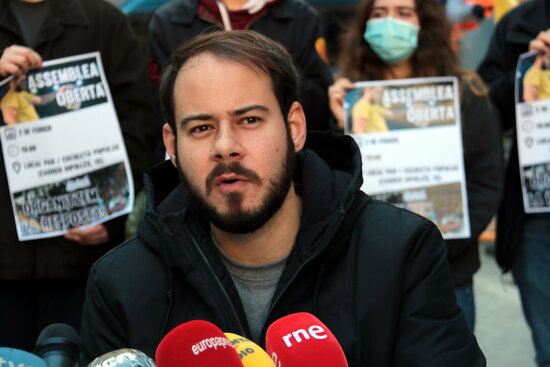 Cultural figures and organizations continue to rally around Catalan rapper Pablo Hasél, who has been convicted to two years and nine months behind bars for two separate cases relating to his lyrics and tweets.
Hasél must enter prison voluntarily by this Friday in order to comply with Spain's judiciary sentence.
Some 60 cultural bodies held an online protest on Thursday afternoon, organized by the Catalan Academy of Music, while around 140 writers and journalists released a new manifesto defending the rapper, with one day to go before the court's deadline arrives.
The Catalan Academy of Music's protest, moved online after the Barcelona Electoral Board refused permission for it to go ahead as planned at Plaça Reial, featured a manifesto that outlined the "total and absolute" rejection of Hasél's imprisonment.
Read by musician Natxo Tarrés, actor Sílvia Bel and editor Joan Sala, it demanded the annulment of sentences against artists and urged the "most scrupulous respect" for freedom of expression from the Spanish government and judicial powers.
"Today it is Pablo Hasél, tomorrow it will be any other creator or performer from any other discipline," it added.
Among the attendees was jailed pro-independence activist Jordi Cuixart, who, borrowing a few lines from Pussy Riot member Nadya Tolokno, said that "prison is not the worst place in the world for someone who dares to think for themselves."
Separately, 140 writers and journalists, including Jordi Évole, Rosa María Calaf, Manuel Rivas and Maruja Torres, released a statement in support of Hasél, saying rapping "is not a crime," even if the lyrics are unpleasant.
No one should be criminally convicted for tweeting or singing "unpleasant or outrageous" things, they argue.
Freedom of speech
Thursday's outpourings of support follow on from another manifesto earlier this week, entitled 'Without freedom of speech there is no democracy', whose 200 signatories included luminaries such as Catalan singer Joan Manuel Serrat, Spanish film director Pedro Almodóvar and actors Javier Bardem, Alba Flores and Aitana Sánchez Gijón.