Protests as rapper given 10 days to enter jail for lyrics and tweets
Pablo Hasél says he does not intend to go into exile like fellow convicted singer Valtònyc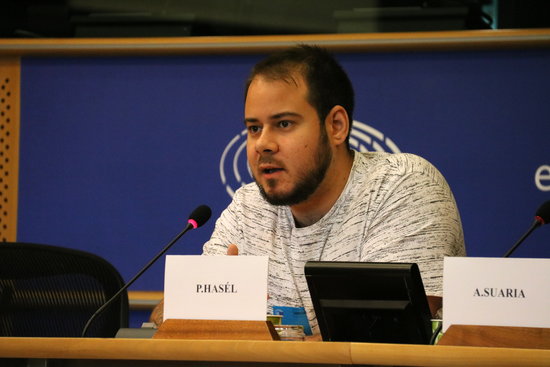 Two protests were held on Saturday evening to protest the Spanish National Court's decision to give the Catalan rapper Pablo Hasél ten days to enter jail after being sentenced for lyrics and tweets criticizing the Spanish monarchy and institutions.
Hundreds of demonstrators gathered in Lleida's plaça de la Catedral and at Barcelona's Jardinets de Gràcia to call for "a total amnesty for the democratic rights and freedoms.
In Barcelona, the march moved to an area near Spain's delegation office, where some protesters threw bottles at Catalan police officers and a few dumpsters were set on fire.
The National Court sentenced Hasél to two years and nine months behind bars for two separate cases relating to his songs and tweets, which the judiciary deemed to be the "glorification of terrorism" and slander to the crown and Spanish law enforcement.
In his lyrics, he called for the return of armed groups such as ETA and Terra Lliure, which his lawyers have always argued should be protected as freedom of speech because they are mere opinions.
After the Spanish Supreme Court confirmed the latest verdict and the Constitutional Court dismissed an appeal for the latest case, on Thursday the National Court gave him ten days to enter prison–yet, Hasél has already said that he has no intention to go voluntarily but instead he will wait for his arrest and imprisonment.
Not exile like rapper Valtònyc
In a Catalunya Ràdio interview on Saturday, the musician ruled out going into exile, as another rapper, Valtònyc, did in 2018 after being sentenced to three and a half years behind bars for glorifying terrorism, slander, and defamation of the crown over the content of his lyrics.
"I will be more useful here in order to give voice to the message they want to silence and imprison," Hasél said.
Valtònyc is, meanwhile, waiting for Belgian authorities to make a final decision on his extradition to Spain.