Rapper gets over 3 years in prison for lyrics
Some of the lyrics used in the case against the musician called the Spanish Bourbon monarchy "thieves"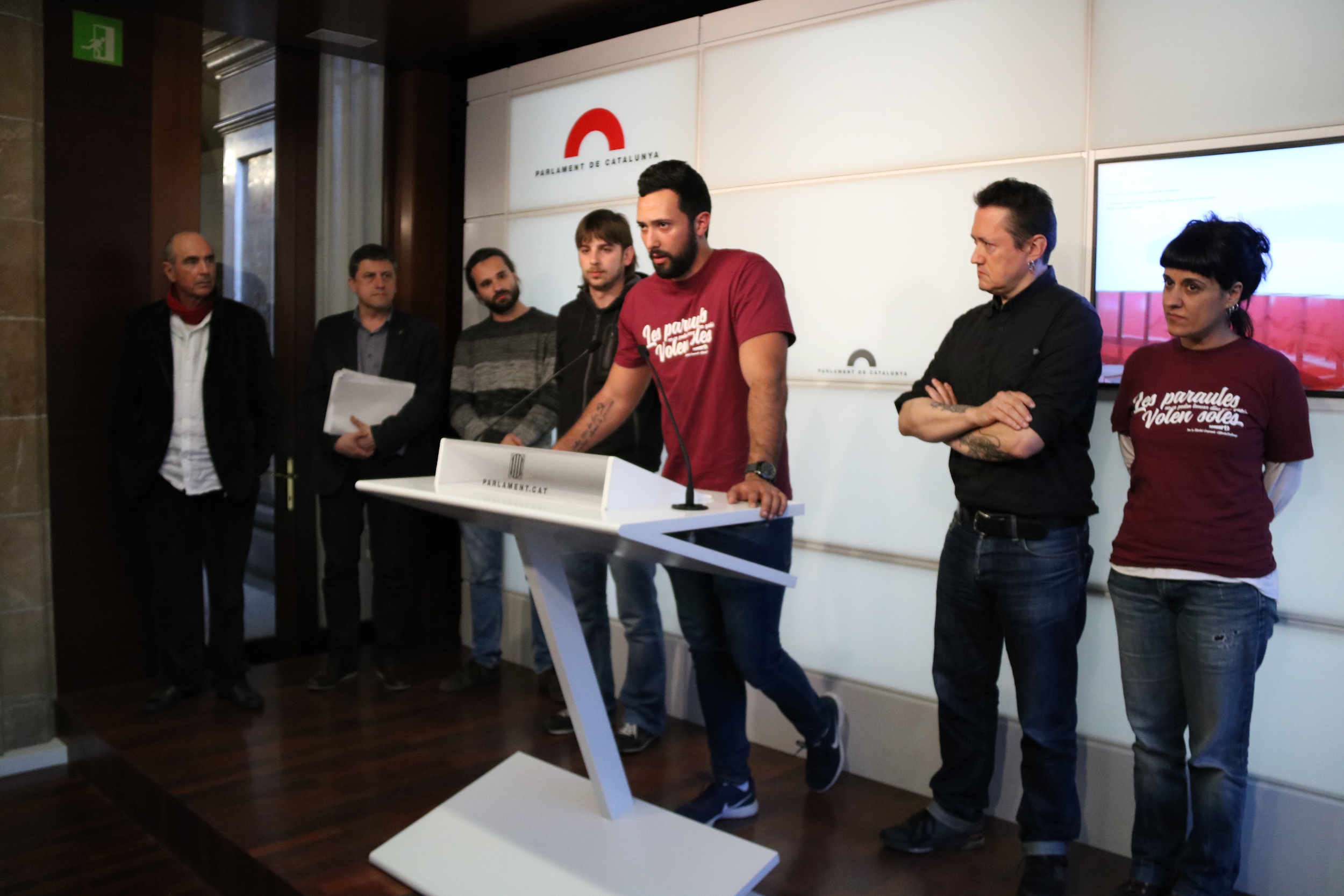 Three years and a half in prison for song lyrics. That's what Mallorcan rapper Josep Miquel Arenas Beltrán, known as 'Valtonyc,' was given today by the Spanish Supreme Court. His crimes, according to the judicial entity, are of glorification of terrorism, slander, 'lèse-majesté' (defamation against the crown) and threats in his song lyrics.
All this due to lyrics to a series of songs that he wrote and that he put for free consumption online. The musician's defense argued for their client's right to freedom of expression and artistic creation, highlighting that the language used in hip-hop and rap is often extreme, provocative, allegoric and symbolic.
Criticism of politicians and the crown
One of the songs the artist is most known for is called 'Tuerka Rap,' in which he criticizes the Spanish monarchy, for issues including their relations with the Saudi royal family, their foreign policy, and their use of money. "The situation worries me quite a bit, how to support two families: mine, and the royal one," ironically proclaims Valtonyc in the song.
The lyrics used in the court case against Arenas are from different songs. "We want death for these pigs," for example, referring to corrupt politicians and the Bourbon monarchy, along with "may they be afraid like a (Spanish) Guardia Civil police officer in Euskadi (the Basque Country)," referring to the Basque conflict during the ETA years. You can hear some of Valtonyc's songs here.
Twitter reacts
"The Supreme Court sentence is already out. Three years and six months of jail for my songs. I have to enter prison. As soon as I have more information, I'll say more," wrote Arenas when he learned of the decision.
LA SENTENCIA DEL SUPREMO YA HA SALIDO. 3 AÑOS Y 6 MESES DE CARCEL POR LAS CANCIONES. TENGO QUE INGRESAR EN PRISIÓN. EN CUANTO TENGA MÁS INFO. DIRÉ COSAS.

— Josep V. 🎗️ (@valtonyc) February 20, 2018
The mayor of Barcelona, Ada Colau, reacted on the social media platform as well. "Sad and dark times when you have to fight for something so obvious as #rappingisnotacrime, singing about Bourbon thieves (…) is #freedomofexpression." She further expressed her solidarity with the musician.
Tristes y oscuros tiempos en los que hay que reivindicar algo tan obvio como que #RapearNoEsDelito, cantar sobre borbones ladrones y matadores de elefantes es #LibertadDeExpresión
Solidaridad con @valtonyc

— Ada Colau (@AdaColau) February 20, 2018
MP for the pro-independence party ERC Raül Romeva, who he himself spent time in prison for his actions in the run-up to the declaration of independence in the Catalan parliament, also tweeted on the subject. "It's not just us," he wrote, "it's the rights and freedoms of everyone. It's even song lyrics."
Cada cop queda més clar que això va, sobretot, de preservar la democràcia. No som només nosaltres. Són els drets i les llibertats de tots. Són fins i tot unes lletres. #LlibertatValtonyc

— Raül Romeva i Rueda (@raulromeva) February 21, 2018
Not the first time
This is not the first time that a rapper has been taken to Spanish court for their lyrics. Rapper Pablo Hansel was sentenced to two years in prison by the Spanish National Court, and members of the rap collective 'La Insurgencia' were sentenced to two years and a day by the same judicial entities. Their crimes included glorification of terrorism, as well, regards the Basque Conflict.
Valtonyc's defense
Arenas' defense argued that the lyrics in rap songs are often explicit. Indeed, hip-hop was founded on the concept of articulating societal malaise. In what is arguably the home of hip-hop, United States, one of the most famously explicit songs is called 'Fuck tha Police' from the 1988 album 'Straight Outta Compton.' The song, still relatively well-known today, contains lyrics like "when I'm finished, it's gonna be a bloodbath, of cops, dyin' in L.A."
The song, which made it onto the Rolling Stone's list of 500 Greatest Songs of All Time, was performed by rap group N.W.A. One of its more famous members is Dr. Dre, now a world-renowned producer and entrepreneur. The other to have gained international recognition is Ice Cube, who currently is also an entrepreneur, producer, screenwriter, and actor.
While the song did get censored in some countries and provoked the Federal Bureau of Intelligence in the United States to write a letter to the record company expressing disapproval, no charges were brought against the rappers for the lyrics.