No kissing Girona lioness statue due to coronavirus concerns
Pilgrims also urged to use common sense over kissing of religious icons the Black Madonna and Virgin of Núria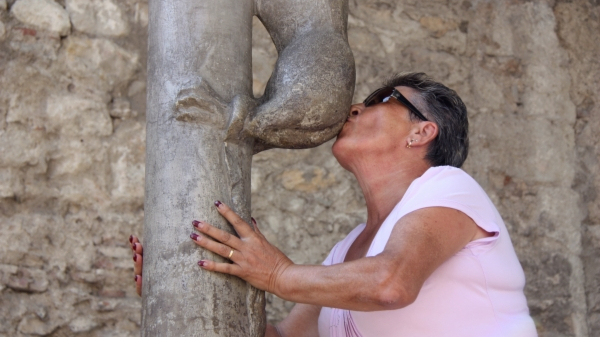 'Kiss the lioness's ass,' goes the saying, 'and you'll return to Girona'.
But visitors to the city in northern Catalonia are currently unable to partake in what is one of the traditional tourist activities there. Access to the popular lioness statue has been cordoned off over concerns around the potential spread of coronavirus.
Following the confirmation of the first case of coronavirus in Girona on Saturday (a second case was confirmed on Tuesday) the city council stopped access to the sculpture, with mayor Marta Madrenas saying that the monument had been sealed off "following the instructions of the Department of Health" who had warned it was a "clear risk of infection."
The Health Minister Alba Vergés, however, told Catalan radio station RAC1 radio that they hadn't "yet called for restrictions in any public place."
Following some confusion, Madrenas and Vergés spoke by telephone and it was confirmed that access to the popular statue would remain closed for now.
Religious icons
Questions have also been raised around the kissing of religious icons.
The Virgin of Montserrat is a statue housed in a monastery of the same name in central Catalonia. Pilgrims who visit the statue, also known as the Black Madonna or 'La Moreneta', often kiss or touch one the Virgin's hands.
A spokesperson for the Catholic Church in Catalonia, Father Norbert Miracle, has encouraged the faithful to use common sense.
Speaking to RAC1 he said there was no change in protocol but measures would be implemented if the health authorities made a recommendation.
Father Miracle advised that instead of kissing the icons, people could perhaps bow if they wished to express reverence.
At another Marian shrine, the Virgin of Núria in the Catalan Pyrenees, a medal that pilgrims often kiss has been removed as a precaution.