Vox: far-right, fast-rising, 'for Spain'
The right-wing is turning mainstream as polls predict Santiago Abascal's party will be third-largest in Spain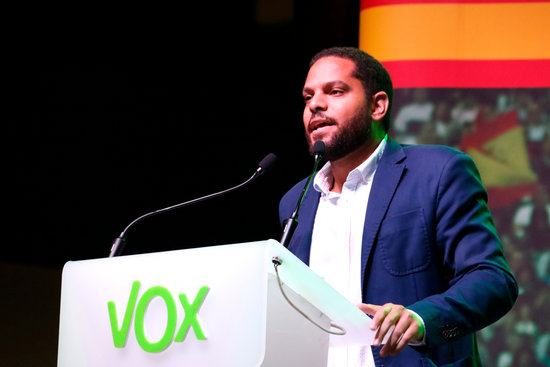 Anti-feminism, anti-immigration, anti-independence. Polls suggest that 13.5% of voters in Spain will back far-right political party Vox and its policies in the upcoming general election.
A party that believes that the verdict convicting the leaders behind the 2017 referendum in Catalonia was not harsh enough, Vox is expected to improve its number of seats in Congress with a campaign tough on independence.
Founded in 2014, the party constitutes the first avowedly far-right party to rise to power since the transition from the Franco dictatorship to democracy after General Franco's death in 1975.
Harking back to old Spanish values
Vox's core principles are founded on an extreme anti-immigration and anti-feminism base. The party rejects Spain's current regional system, wishing to unite Spain with a single set of laws, rejecting "privilege and division".
They are opposed to Catalan independence, and in fact their secretary general, Javier Ortega Smith, acted as private prosecutor in the trial against the jailed pro-independence leaders.
In fact, they denounced the verdict, feeling that the leaders should have been convicted of rebellion rather than the lesser crime of sedition. The party also believes that Catalan president Quim Torra should be arrested, Catalonia's autonomy suspended and its government taken over.
Anti-independence stance springboard
While Vox's support in Catalonia is scarce, winning just one seat in last April's general election, its stance on the independence situation in Catalonia and the recent verdict of the Catalan Trial has been key to their rise to power.
''For Spain'' was the slogan behind their campaign in the April elections, and the party's tough line on Catalan separatism has appealed to those who want to see Spain's territorial integrity maintained.
Make Spain Great Again, and build a wall
Their unionist views go far beyond this, however. The party pledged to ''make Spain great again'' for the April elections, and plans to do this by banning political parties and organizations ''that pursue the destruction of the Nation's territorial unity and sovereignty,'' and to promote the Spanish language above other co-official languages in Spain.
Further to this, party president Santiago Abascal proposed building a wall on the borders of Ceuta and Melilla, two Spanish enclaves on the coast of Morocco, due to his opinion that Morocco sends ''waves of clandestine immigrants'' to Spain.
Franco exhumation sees polling increase
Tracking polls in El Mundo and La Razon newspapers concur that the recent exhumation of General Franco's remains has boosted the views on the party.
Abascal berated Pedro Sánchez's government, labelling the removal of the remains from the mausoleum near Madrid as ''an excuse'' with an ''aim to rewrite history, to delegitimize the monarchy and to topple Felipe VI.''
A government alliance?
This appears quite unlikely. Certainly not with Pedro Sánchez, who polls show is set to once again fall short of the majority required to form a government. Abascal believes that Sánchez has taken a far too lenient stance on the independence movement, something that he has labelled a ''betrayal'' of Spain.
In a recent rally in Madrid, party leader Abascal denounced the People's Party as ''useless'' and the centre-right Ciudadanos as ''opportunists.'' Yet, Vox helped other right-wing parties topple left-wing rivals in the Madrid and Andalusia regions.