Spanish president boasts of controlling public prosecutor in bid to extradite Puigdemont
Prosecutors reject acting president's claims, affirming they are "independent" and free from government control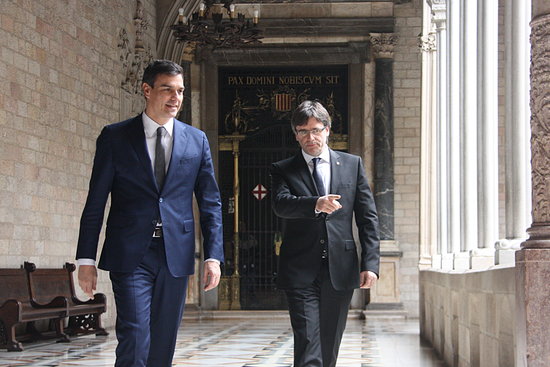 Spain's acting president Pedro Sánchez has boasted of controlling the public prosecutor in his bid to extradite exiled Catalan leader Carles Puigdemont from Belgium.
While the public prosecutor, or attorney general, is appointed by the Spanish government every four years, the constitution stresses that the office should remain independent and impartial.
In a televised debate on Monday, Sánchez promised to bring former Catalan president Puigdemont back to Spain in order to face trial for his role in the 2017 independence bid.
Puigdemont's response came via Twitter, warning Sánchez that he was not in a position to make such pledge unless he was willing to carry out "illegal acts," such as "interfering with the judiciary" or "kidnapping" him.
In a radio interview on Wednesday, Sánchez pointed out that the public prosecutor recently issued a European Arrest Warrant for Puigdemont, and then asked: "Who does the prosecutor answer to?" The anchor responded: "To the government." Sánchez concluded: "Then, that's it."
Sánchez's remarks are in contrast to his position only a few months ago, when he told pro-independence parties that he could not tell the public prosecutor to drop the rebellion charges for their leaders on trial.
Spain's Supreme Court eventually convicted 9 pro-independence leaders for the lesser offence of sedition, with prison sentences ranging from 9 to 13 years.
Sánchez is running as the presidential candidate for the Socialist Party in the November 10 general election. As polls predict he will fall short of a majority to rule alone, he might need the support of Catalan parties to stay in power.
Public prosecutor's office defends its "impartiality"
The public prosecutor's office at Spain's Supreme Court maintained its "impartiality" and "functional autonomy," especially with regard to the Catalan independence referendum trial, in a communiqué released on Wednesday.
According to the public prosecutor, "all [of the prosecution's] actions" are carried out "taking into account the constitutional principles of legality and impartiality."
Prosecutors associations reject claims
Later on Wednesday afternoon, associations of prosecutors rejected the boasts from the acting Spanish president, affirming that the executive "can not give orders to the attorney general."
The Association of Prosecutors and the Progressive Union of Prosecutors defended that they are "independent" and "autonomous" from the government, and point out that whatever they do "only depends on the legality" of the matter at hand.
"We lament the lack of knowledge of the functions of the Prosecution Ministry by those who make such statements that do not conform to reality and generate unacceptable confusion in the citizenry," insisted the Association of Prosecutors, the largest such group in the country.