Criticism for Pedro Sánchez's proposals on Catalonia
Acting Spanish president's pledge to return exiled former president to Spain and make referendums illegal elicits disapproval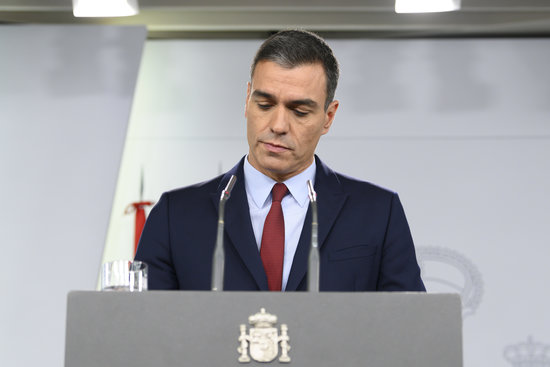 "Do you want to kidnap me, Pedro Sánchez?" was Carles Puigdemont's response after the acting Spanish president vowed during an election debate to ensure that the former Catalan president is returned to Spain to face charges of sedition and misuse of public funds.
In a televised election debate on Monday between Spain's main party heads, Socialist Party leader Sánchez made a commitment "here and today" to "return [Puigdemont] to Spain so that he can be held accountable before Spanish justice."
Yet, Puigdemont, who has been in exile in Belgium since he left the country after the failed independence bid in 2017, pointed out in a video that Sánchez only has two "illegal" ways of making him return: kidnapping or interfering with the justice system.
Meanwhile, the pro-independence ERC party's main candidate in the November 10 election, Gabriel Rufián, described as "abject" Spain's "ridiculous" pursuit of democrats who "attempted to channel the wishes of the Catalan people to vote in a referendum."
In a Catalan News Agency news conference on Tuesday, Rufián, who was also reacting to the Supreme Court issuing arrest warrants for Puigdemont's former ministers, added that it is judges who summon people to face charges in court "and not the Spanish president."
Sánchez pledges to make referendums illegal
Nor was Rufián much impressed by Sánchez's commitment to introduce a new offense into Spain's criminal code making it a crime "once and for all to hold illegal referendums in Catalonia," accusing the acting president of "criminalizing" referendums.
In Monday's debate, the head of the left-wing Podemos party, Pablo Iglesias, also criticized Sánchez's hardline stance towards Catalonia, and those of the leaders on the right, such as PP's Pablo Casado, who called for Spain's National Security Law to be activated.
"I get the impression that you are competing to see who has the toughest measure," said Iglesias, who added, "I think you all know, even though we are in an election campaign, that the situation in Catalonia can only be resolved with dialogue and common sense."