Spanish parties clash over Catalonia in election debate
Acting president Pedro Sánchez proposes to criminalize illegal referendums as right-wing parties urge him to suspend self-rule in Catalonia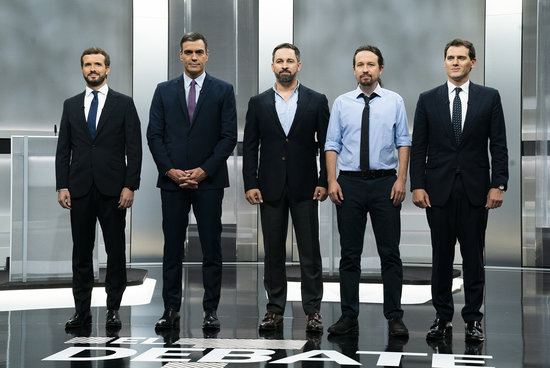 Spanish parties clashed over how to handle the Catalan independence crisis on Monday night in the only televised debate before heading to the polls in the upcoming general election on November 10.
It was a significant opportunity to sway voters before Spanish citizens go to the polls on Sunday. Monday's debate could prove decisive - whilst a stalemate remains the most likely outcome, opinion polls also suggest that one third of voters remain unsure over their choice.
Leaders sway towards the right in attempt to persuade voters
Catalonia held an independence referendum in 2017 despite Spain's opposition. Since then it has become the most divisive political issue in Spain due to its defiance of the Spanish courts, and Monday's debate was no different.
Concerning the matter, Spain's acting president Pedro Sánchez, leader of the left-wing Socialists who came to power thanks to pro-independence parties, moved towards the center in the debate. Notably, he promised to include unauthorized referendums as a criminal offence if elected.
Meanwhile, Sánchez also took a harder stance on the consequences of the jailing of the leaders for their role in the failed independence bid, which sparked civil unrest in Catalonia in recent weeks, leading to violent protests, clashes with police and over 600 injuries.
The right-wing People's Party, who take a tougher stance than Sánchez on the Catalan issue, has been rising in polls since the election was called.
Meanwhile, right-wing Vox has experienced a surge that coincided with Catalonia's descent into civil unrest following the conviction of the independence leaders.
The right-wing also took a hard stance on Monday in an attempt to sway voters in time for Sunday's election.
''You don't believe in the Spanish nation,'' said leader of the People's Party Pablo Casado to Sánchez.
Santiago Abascal, head of Vox, said that ''there is a permanent coup d'etat in Catalonia,'' and held the People's Party and Socialists, who have been at the top of Spanish politics for decades, responsible.
Albert Rivera, leader of Ciudadanos, criticized Sánchez for allowing the ''threat to democracy to develop in Catalonia.''
Nevertheless Sánchez also criticized the People's Party for being soft on Monday, for ''allowing Puigdemont to get away,'' referring to former Catalan president Carles Puigdemont who escaped to Belgium to avoid being arrested in Spain while the People's Party was in office.
The leaders also clashed on economic policies after identifying the slowing of Spain's economic growth as another issue. ''In order for the Spaniards not to lose their jobs, Sánchez must lose his,'' said Casado.
Abascal also accused Sánchez of not doing enough to control who enters Spain's borders.
Sánchez dips in polls while People's Party and Vox surge
In a flash opinion poll of 711 people run by Invymark for LaSexta television, Sánchez was placed as winning the TV debate, with Casado second and Abascal third.
But polls carried out by GAD3, Sigma Dos and NC Report that were published on Monday predict that the Socialists will lose seats gained in April, dropping from 123 to around 120, with previous polls suggesting otherwise.
Allbert Rivera's Ciudadanos are set to be the big losers in this election according to polls. They are also predicting an increase for the People's Party after a somewhat disastrous showing in April in which they lost over half of their seats in Congress.
Vox meanwhile could become the third-biggest party in Spanish parliament by leapfrogging Ciudadanos and Unidas Podemos, continuing the remarkable rise of the right-wing party.
Personal divisions make breaking deadlock unlikely
The introduction of new parties such as Vox is making it increasingly difficult to gain a parliamentary majority. Therefore, it is more than likely that Sánchez will have to form a coalition government, though options for an alliance appear limited.
Sánchez and Casado have both ruled out an alliance between the Socialists and the People's Party, meanwhile Vox feel that Sánchez has ''betrayed'' Spain in his stance on the independence situation in Catalonia. Ciudadanos believe that Sánchez is facilitating any future success of the ''next coup d'état'' in Catalonia.
After the April 28 election, talks broke down between Sánchez and head of Unidas Podemos Pablo Iglesias regarding a coalition.
In July, Sánchez dismissed them as a potential partner due to their stance against the jailing of the independence leaders and in favour of a self-determination referendum in Catalonia.
On Monday, Iglesias said that the Catalan issue can only be ''resolved through dialogue.'' This has been hard to come by however, with Sánchez refusing to talk with Catalan president Quim Torra since the verdict was announced by ignoring his phone calls.
The personal animosity between the leaders seen on Monday night does not bode well for breaking the political deadlock in Spain. With no party likely to gain a majority, agreements will have to be made and divisions set aside in order to avoid another failure to form a government.