Poland and Romania side with Spain in European arrest warrant case against Puigdemont
EU court deliberating whether Belgium lawfully denied extradition of former president's ally Lluís Puig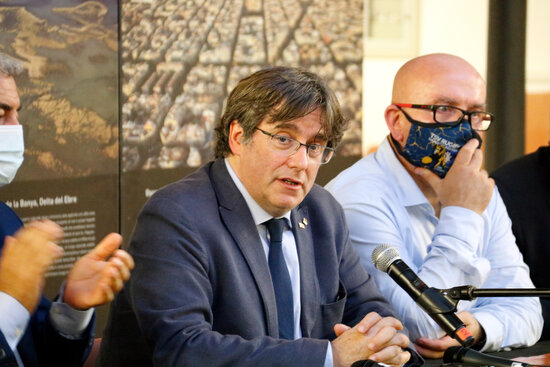 Poland and Romania have got involved in the Catalan pro-independence exiled leaders' cases to side with Spain before European justice.
The European Court of Justice is deliberating over a clarification requested by Spain's Supreme Court after Belgium rejected extraditing former minister Lluís Puig – this decision could also impact on the frozen European arrest warrants against former president Carles Puigdemont and two other former cabinet members Toni Comín and Clara Ponsatí, who are all now MEPs.
As published by Spanish daily 'La Razón' and confirmed by the Catalan News Agency (ACN), both Poland and Romania have decided to take sides in the EU court deliberation and have submitted an opinion similar to that of Spain, that is, questioning whether Belgium was allowed to assess potential breaches of fundamental rights if Puig were to be extradited.
Indeed, Belgium rejected handing him over – arguing that he could see his fundamental rights violated in Spain – and is also getting involved in the procedure before the EU court in order to defend its standpoint.
In national courts' clarification requests to the Luxembourg court on issues referring to EU laws, member states can submit their opinions – something that Italy has not done even though it froze an extradition arrest pending decisions in Luxembourg on Puigdemont after detaining him for a day in Sardinia.
Pending EU court decisions on immunity and on Spain's clarification request
The magistrates in Luxembourg still have to decide on their waivers, but in November, they again provisionally denied returning their immunity but clarified that they should not be arrested or extradited until a decision is made.
When the three had their immunity as MEPs lifted in March 2021, Supreme Court judge Pablo Llarena requested clarification from the EU court on how to issue EU arrest warrants in order to avoid being defeated again. Whilst this is also still being considered by the top court in the EU, discrepancies have arisen on whether the extradition requests are currently active or not.