No deal announced following high-profile coalition government crisis meeting
Senior member Esquerra Republicana and junior partner Junts per Catalunya faced "difficult and demanding" gathering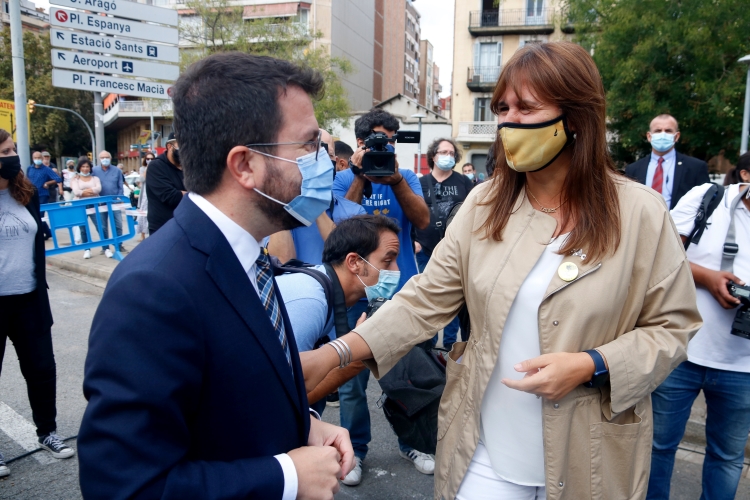 No deal was announced following a high-profile meeting between pro-independence government coalition partners on Wednesday evening. The gathering was used by members of the Catalan government and leaders of the two major parties to address the coalition's next steps in light of frequent internal rows over how to achieve Catalonia's independence.
At the meeting, president Pere Aragonès, vice president Jordi Puigneró, and presidency minister Laura Vilagrà spoke with leaders of Esquerra Republicana and Junts per Catalunya for over six hours.
The senior coalition party, Esquerra Republicana (ERC), asked their partners for loyalty, to help them achieve their goals as a political force, and to stop putting the government's stability at risk due to internal disputes, sources present in the meeting held at Barcelona's Palau de Pedralbes palace said.
On the other hand, Junts (JxCat) only released a press release confirming the meeting between the political forces and announced they had evaluated and analyzed the political context.
The government and the two parties both stated that they hoped to reach a minimum level of trust in order to keep moving forward toward Catalonia's independence.
However, ERC, which was also represented by Marta Vilalta and Josep Maria Jové, said they could not create a coordination team without a minimum amount of loyalty and trust, as it would not be useful nor honest.
At the other side of the table, the suspended parliament speaker, Laura Borràs, and pardoned leader Jordi Turull, sat beside Albert Batet and Puigneró.
The political force asked ERC to see what other steps could be taken to comply with the deal signed to form the Catalan coalition government. Back in August, Junts had already affirmed that their alliance could not continue as it has up until now and proposed, coinciding with the fifth anniversary of the October 1, 2017 independence referendum, for party members to vote on the future of the executive.
Later on Thursday, Catalan foreign minister Victòria Alsina, and a member of the Junts party, assured that the topic should not be on what her force does.
"Political discussion and debates should not be focused on whether JxCat will quit the government but on whether Esquerra Republicana will comply with the coalition deal," she said from Brussels.
Both parties agreed that moving forward with further dialogue would not be easy or fast, but hoped that minimum conditions could be reached.
"Power disputes"
This meeting did not go unnoticed by opposition forces.
For the far-left pro-independence CUP leader, Carles Riera, the gathering was held in response to "power disputes" between both parties and due to "internal tensions within Junts," he said in an interview with the Els Matins de TV3 TV program.
Meanwhile, the president of the unionist Ciudadanos party, Carlos Carrizosa, does not believe that the government will collapse. Junts "would have problems maintaining their political clout," he said in a joint interview with Spanish public Ràdio4 radio station and L2 TV channel.
Conflict between partners
The meeting arrived in the middle of a government crisis as Junts per Catalunya and Esquerra Republicana have been at odds over their differing views as to how to achieve independence.
The most recent confrontation arose when the Catalan president announced he would not take part in the annual independence demonstration on National Day.
As confirmed by the Catalan News Agency, the leader declined to go to the rally because "it is against [pro-independence] parties and not against Spain."
On that day, the president of the grassroots group that organized the rally, ANC's Dolors Feliu, demanded "independence or elections."
During her speech, she even hinted at the creation of a new party and many rally-goers spontaneously chanted "government, step down."
After National Day, Aragonès met with leaders of pro-independence grassroots organizations, where ANC pushed the cabinet to declare independence before 2024.