Civic group ANC pushes government to declare independence before 2024
Catalan National Assembly proposes "deadline" coinciding with Spain's presidency of the EU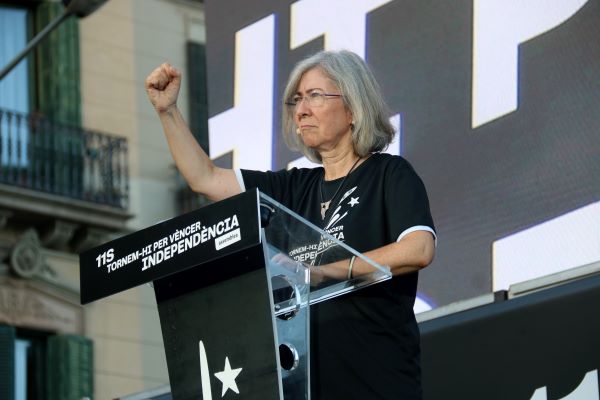 Leaders of the pro-independence civil organization Catalan National Assembly (ANC) called on president Pere Aragonès to declare independence "during the second semester of 2023" on Tuesday late afternoon before a meeting in the government's HQ.
ANC met with the Catalan leader as well as other grassroots organizations Òmnium Cultural and the Association of Municipalities for Independence (AMI) to discuss the current political situation after the annual 'La Diada' National Day protest brought internal divisions to the fore.
Dolors Feliu, the leader of ANC, told media outlets that this "deadline" has been chosen to coincide with Spain's rotating presidency of the European Union, which will go from July 1 to December 31, 2023.
"It is an opportunity we cannot lose," the group said in a statement.
Presidency minister rejects it but issue leads to new government internal row
Yet, presidency minister Laura Vilagrà, member of the leading party in cabinet, Esquerra, rejected the deadline.
"It is obvious that right now the conditions are not right to go ahead with the rushed proposal from ANC that was presented today before entering the government headquarters," she said.

Shortly afterwards, the Catalan vice president, Jordi Puigneró, member of the junior cabinet party, Junts, said this stance only represented Vilagrà's minister and was not the result of an agreement of both factions.
Esquerra and Junts have shared the government for years but discrepancies over the way ahead in the independence campaign are a constant reason for internal rows.
Indeed, Junts' president, Laura Borràs, hinted at the possibility of leaving the government earlier this week.