Catalan president will not attend annual independence demonstration on National Day
Pere Aragonès argues rally led by ANC grassroots organization is "against parties and not against Spain"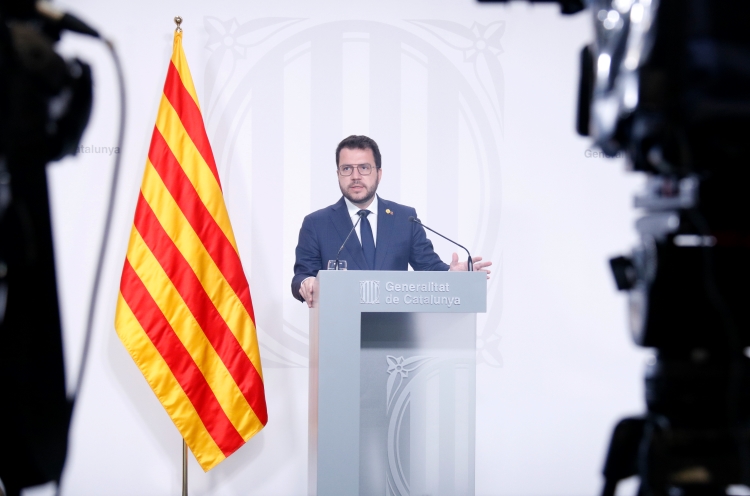 The Catalan president, Pere Aragonès, will not attend the annual independence demonstration on September 11, Catalonia's National Day.
As confirmed by the Catalan News Agency, the leader declines to go to the rally because "it is against [pro-independence] parties and not against Spain."
Every year since 2012, this protest is the biggest show of strength for those in favor of the Catalan republic, with attendances over 1.5 million according to local police in the mid-2010s, but just over 100,000 in 2021.
Grassroots organization ANC are the hosts, and they have been skeptical at the approach Aragonès is leading on the independence issue, prioritizing talks with Spain in order to agree on a self-determination referendum with Madrid.
Indeed, on July 7, the group's president, Dolors Feliu, expressed distrust at the parties in favor of exiting Spain because despite being majority in the chamber "this is not enough for them to have a clear roadmap to execute independence."
"We cannot trust the parties to do the work and, for this reason, we are determined to do it with the people," she said.
On Friday, only a few hours before Aragonès rejected to attend the march, Feliu had said in an interview with La Vanguardia daily that not attending the event would mean the president "is not involved in the independence project."
Yet, sources of the presidency say that only if institutions, parties and grassroots supporters come together despite their discrepancies, independence will be achieved.
The same sources remind that Aragonès and his government remain in favor of a split with Madrid.
Different approaches of presidents ahead of National Day march
Center-right nationalist CDC party leader, Artur Mas, was the Catalan president in 2012, when the first National Day mass pro-independence demonstration was held – yet, the leader, who transitioned from asking for a referendum to be openly for a split during his tenure, never attended the march while in office to preserve his institutional role.
In the 2016 and 2017 editions, the president was Carles Puigdemont, member of the same party (before it disappeared giving way to PDeCat) and more explicitly pro-independence, attended the event, as his successor Quim Torra, appointed by himself, did in the 2018, 2019 and 2020 editions.
In 2021, left-wing also pro-independence president Pere Aragonès joined the rally, but he will not repeat in 2022.
The demonstration will start at Barcelona's Parallel avenue and rally-goers will march towards the sea and all the way to Estació de França's train station by Ciutadella Park, which hosts the Catalan parliament. The event will start at 5.14pm but organizers recommend attendees to be in Parallel avenue at 4.30pm.