Could Catalonia's pro-independence coalition soon be calling it quits?
National Day protest organizers highlight cabinet divisions: "Independence or elections"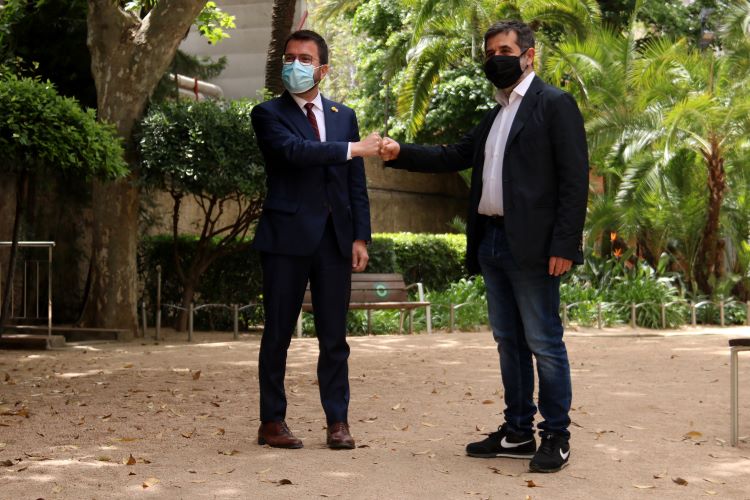 Catalonia's two largest pro-independence parties, Esquerra Republicana and Junts per Catalunya, have been in government together for little over a year. And as anyone who follows Catalan politics knows, theirs hasn't always been the easiest of relationships.
But now, a day after the mass pro-independence protest in Barcelona for National Day that attracted 150,000 people (according to police) or 700,000 (according to organizers) but not senior partner Esquerra, it seems rockier than ever.
Why didn't Esquerra go to the demonstration?
Pere Aragonès did not attend the 'La Diada' march on Sunday, becoming the first Catalan president to not do so since 2015, nor did any Esquerra cabinet ministers, although the party's youth group and others affiliated with the senior partner did.
The president had urged the demonstration organizers, the Catalan National Assembly (ANC), to reframe this year's protest to focus on putting pressure on Spain rather than fellow members of the pro-independence movement – that is to say, Esquerra – something ANC chose not to do.
According to Esquerra spokesperson Marta Vilalta, those in favor of a Catalan republic "shouldn't confuse who the enemy is," an adversary she described as "the Spanish state" and not her party, while Barcelona councilor Ernest Maragall lauded his party's efforts to negotiate with the Spanish government.
Esquerra's decision to favor dialogue with Spain as a means of handling the independence dispute hasn't gone down well with hardliners who favor direct confrontation in the hopes of achieving more tangible results.
What do the protest organizers make of this?
"Independence or elections."
This is what ANC president Dolors Feliu had to say to the Catalan government after Sunday's protest. "If they don't do it, we are determined to make it happen ourselves with elections and new players," she said in a speech before Sunday's protesters that was highly critical of the cabinet's "excuses." Feliu's words were met with chants of 'govern dimissió' (government step down).
"Enough with trying to de-mobilize the movement and staying home, burying your head in the sand, when people take to the street to call for freedom," she said in what can only be interpreted as a dig at Aragonès.
The sentiment was echoed by many a protest-goer, and chants in favor of former president Carles Puigdemont's return from Belgium, where he has been since late 2017 to evade prosecution for the referendum deemed illegal by Spain, as well as signs against the current cabinet were not uncommon.
What about Esquerra's coalition partners, Junts?
Junts president and recently suspended parliament speaker Laura Borràs claimed it would be "perfectly possible for Junts to leave the cabinet."
In an interview with Spanish public broadcaster TVE on Monday, the morning after the rally, the politician said she didn't want a snap election to be called, but rather that she wanted the government to work strategically towards achieving independence in compliance with the Esquerra-Junts coalition agreement.
Their differing approaches to independence have been a recurring theme throughout their time in power, with a recent Junts report on coalition agreement compliance concluding that they have actually "moved them further away from" achieving their aim of splitting from Spain.
Her party has yet to attend a so-called 'dialogue table' negotiation with the Spanish government and Esquerra ministers, is doubtful these meetings will be successful and has prioritized "peaceful confrontation" akin to that seen in the buildup to the 2017 independence push – something Esquerra seems reluctant to do.
And in the days leading up to the September 11 demonstration, both Borràs and prominent party figures like Catalan vice president Jordi Puigneró said they thought Esquerra was mistaken in asking ANC to reframe their demands. "Those of us on the front line should be open to criticism or boos," Puigneró said.
How have other parties reacted?
Both the Socialists – the only pro-remain party to participate in the floral tribute to Catalonia's 1714 commander-in-chief on National Day – and En Comú Podem made mention of the cabinet's internal rows.
There is "too much division," the Catalan Socialists' Salvador Illa said in an interview with Catalan public broadcaster TV3, and called on parties to strive for dialogue over discord.
En Comú Podem, on the other hand, cited the "coalition parties' infighting" but said they weren't too worried about what the independence movement does or doesn't do. Instead, the party's David Cid said they were more concerned "the school year didn't get off to the best start or that many households will be cold this winter."
The conservative People's Party, center-right Ciudadanos, and far-right Vox, the staunchly pro-Spain parties, have sought to capitalize on these divisions, noting that while before pro-independence activists used to "insult" those who weren't in favor of a Catalan republic, they now criticize other members of the movement.
What could this imply for the Catalan political scene?
It seems unlikely that Catalonia will be headed towards elections just yet, especially as if Junts were to leave, Esquerra could still try to hold onto power alone, although this would likely make governing an even more complicated task.
And like Borràs, Esquerra's Marta Rovira said the ongoing Junts-Esquerra disagreements need not necessarily force a snap election as called for by ANC if the movement is unable to make any progress.
In any case, the key annual general policies debate in Catalonia's parliament is set to take place on September 27 – a date Junts has already said will be a "turning point" to ensure the coalition delivers on the agreements that secured their hold on government based on Aragonès' opening speech and parliamentary motions that could be passed that week.
If this does not happen to their liking in just over two weeks' time, and as the 5th anniversary of the October 1 independence vote, a date that Junts has already said it will commemorate, approaches, Catalonia could very well see some important political shifts take place.