President invites pro-independence groups to meet Tuesday evening to discuss movement
National Day protest brings internal divisions to fore amid calls for "independence or elections"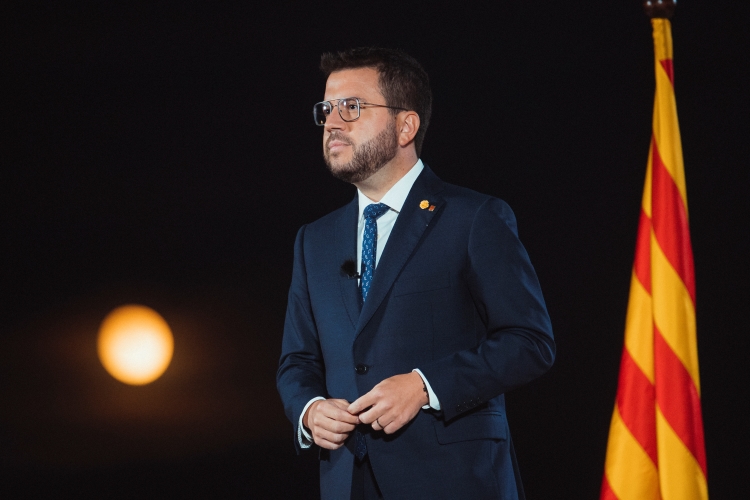 Catalan president Pere Aragonès has invited pro-independence civil society organizations Catalan National Assembly (ANC), Òmnium, and the Association of Municipalities for Independence (AMI) to meet with him on Tuesday late afternoon after the annual 'La Diada' National Day protest brought internal divisions to the fore.
During the talks, pro-independence groups and the Catalan leader will discuss the current political situation. Since the demonstration, turmoil between forces in favor of self-determination has increased, especially as neither Aragonès nor any ministers from the senior coalition partner Esquerra Republicana de Catalunya attended the rally held in the center of Barcelona.
According to sources from the presidency department, the goal is to listen to the civil society organizations' proposals.
For ANC, the meeting was organized because of the "success" of 'La Diada'. "People mobilizing once again and taking to the streets is key for the independence, and the power by demonstrators showed, once again, that the movement does not quit and is looking forward to keeping pressuring to make the mandate of October 1, 2017 a reality," the entity said in a press statement.
Why didn't Esquerra go to the demonstration?
Pere Aragonès did not attend the 'La Diada' march on Sunday, becoming the first Catalan president to not do so since 2015, nor did any Esquerra cabinet ministers, although the party's youth group and others affiliated with the senior partner did.
The president had urged the demonstration organizers, the Catalan National Assembly (ANC), to reframe this year's protest to focus on putting pressure on Spain rather than fellow members of the pro-independence movement – that is to say, Esquerra – something ANC chose not to do.
What do the protest organizers make of this?
"Independence or elections."
This is what ANC president Dolors Feliu had to say to the Catalan government after Sunday's protest. "If they don't do it, we are determined to make it happen ourselves with elections and new players," she said in a speech before Sunday's protesters that was highly critical of the cabinet's "excuses." Feliu's words were met with chants of 'govern dimissió' (government step down).