Judge who presided over Catalan Trial to decide on complaint against former king
Marcel Mauri calls move a "maneuver by the state powers to protect themselves"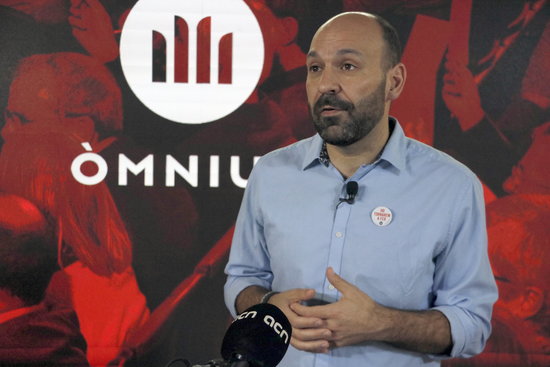 Spain's Supreme Court has appointed Manuel Marchena as the judge to decide whether or not to admit the complaint filed by Òmnium Cultural against the former king for the alleged crimes of corruption, tax fraud, and money laundering.
Marchena was the judge who presided over the Catalan Trial in 2019, which saw nine independence leaders be given jail sentences of 9-13 years for their roles in the 2017 independence push. Òmnium Cultural is the civic group that Jordi Cuixart, one of the nine jailed leaders, is president of.
"We fear that we are facing a new maneuver by the state powers to protect themselves," Omnium vice president Marcel Mauri stated on Saturday. "Who better to protect the monarchy and the powers of the state than Marchena?"
"This is a judge who has committed serious violations of fundamental rights in an attempt to end the independence push," Mauri went on to say.
The pro-independence figurehead then accused Marchena of having led the trial in 2019 "with a clear lack of guarantees and where fundamental rights such as freedom of expression, ideological freedom, and peaceful assembly were violated."
In fact, Omnium has already accused Spain of "flagrant violation" of fundamental rights denouncing that Marchena was piloting a trial that saw "the presence of the far-right party Vox as a private prosecutor and the application of a procedural right of exception."
Investigation into former king
Juan Carlos I is under investigation by the Supreme Court for allegedly receiving commissions in exchange for interceding that a Spanish consortium won a contract to build a high-speed train link to the city of Mecca, in Saudi Arabia.
While the Spanish constitution states that a king cannot be judged by any means, Juan Carlos' abdication in favor of his son, Felipe VI, in June 2014 apparently put an end to his immunity.
On March 14, British newspaper The Telegraph published revelations that Felipe was named as a beneficiary for an offshore fund allegedly containing 65 million euros. The next day, the king relinquished his father's legacy and withdrew his allocation from the royal family's payroll.
In May, media in Spain reported that Juan Carlos I was given 1.7 million euros in cash by Bahrain's sultan, Hamad bin Isa al Jalifa, in 2010.
In July, Spanish president Pedro Sánchez said he was open to an amendment of the constitution to limit the legal immunity of public officials, including the king.
As the corruption-ridden legacy of king emeritus Juan Carlos I continues to haunt the Spanish monarchy, calls to strip the crown of its constitutional inviolability have grown louder.
Also in July, Barcelona mayor Ada Colau called the monarchy "corrupt" and called for a referendum to remove the monarchy and install a Republic.