Jailed pro-independence candidate calls for election debate from prison
Jordi Sànchez sent a request to the jail and the Spanish electoral authority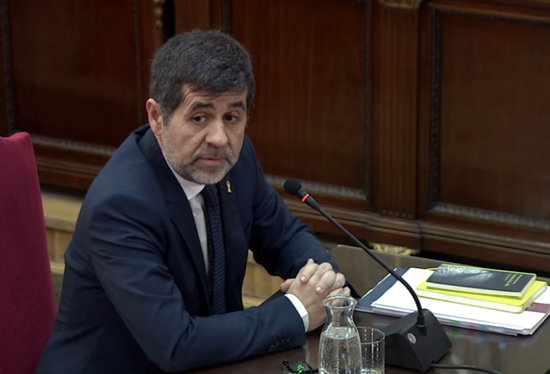 Jordi Sànchez, a Junts per Catalunya (JxCat) candidate in the upcoming Spanish general election, has called for an election debate to take place in the prison in which he is being kept. The former head of the Catalan National Assembly made the request to the secretary of state of Penitentiary Institutions and the Spanish electoral authority.
Sànchez was sent to pre-trial detention as a political activist for his role in the Catalan independence bid and is currently on trial in that case.
In March, he announced he would contest the Spanish general election for the JxCat party, with the former minister for culture, Laura Borràs, joining the pro-independence ticket as the number two to Sànchez.
At a press conference in the Parliament, Borràs argued that Sànchez wants to exercise his rights and recalled that, like the Esquerra Republicana (ERC) candidate Oriol Junqueras, they have not been found guilty and their rights should remain "intact."
Junqueras is also being held in prison while the Catalan trial is ongoing. "If you can not leave the prison, then the electoral debate should be done in prison," Borràs concluded.
In the request, the party didn't propose any specific date for a potential debate, but they intend for candidates for other parties to also participate.
Both the JxCat and ERC parties welcomed the precedent seen in the Andalusian elections last December, when Adelante Andalusia, the coalition between Podemos and United Left held meetings in prisons.
The Spanish electoral authority permitted these meetings to take place following a consultation that had been made by the Penitentiary Institutions. However, the media were not allowed to be present at the meetings.