Former parliament speaker will go on trial from July 12-15 for allowing anti-monarchy vote
Roger Torrent and other former bureau members are accused of disobedience for bringing motions against crown and for self-determination to the floor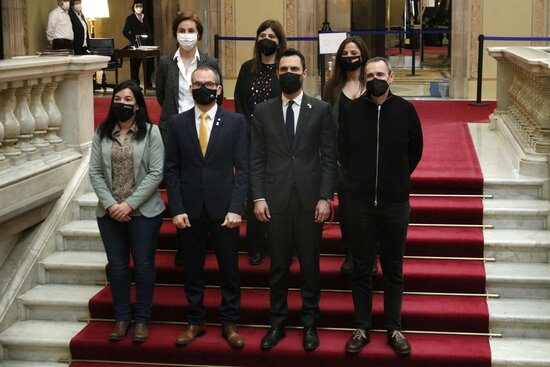 Former parliament speaker Roger Torrent will go on trial from July 12 to July 15 for allowing votes on motions against the Spanish crown and in favor of Catalan self-determination in the chamber in 2019.
The current business minister will face a trial in the Catalan High Court along with the other pro-independence members of the bureau at that time, all of whom are accused of disobedience - a crime which does not carry a jail sentence but which could see them barred from holding public office.
The court announced in March 2021 that it was admitting a criminal lawsuit from Spain's public prosecutor against Torrent and three of his former colleagues at the chamber's bureau: Josep Costa, Eusebi Campdepadrós, and Adriana Delgado. All are members of Catalonia's two ruling pro-independence parties, Esquerra Republicana (ERC) and Junts per Catalunya (JxCat).
Torrent is accused of contravening Spain's Constitutional Court and authorizing votes that were deemed unlawful.
The motions were passed on November 12, 2019, with subsequent amendments on November 26. They were backed by pro-independence parties, holding a majority of seats in the chamber.
One of the texts stressed that parliament "reiterates and will reiterate as many times as MPs choose the disapproval of the monarchy, the defense of self-determination and the affirmation of the sovereignty of the people of Catalonia to decide their political future."
The second one saw the chamber accusing Spain's Constitutional Court of "censorship" on self-determination and criticism of monarchy discussions.
During the debate on the second motion, unionist Ciutadans announced that their party would take the passed motion to the prosecutor's office. "You are the champions of disobedience," said the then-leader of the party, Lorena Roldán.
In November 2019, the Constitutional Court had already partly suspended the motion, warning the parliament and the members of its bureau, who at the time were under speaker Roger Torrent, of the criminal consequences of not complying with its rulings.
"The judicial system is more worried to go after freedoms than to guarantee them," Torrent tweeted after it was announced in March 2022 that he and his colleagues would face trial.
If the four are ultimately found guilty of disobedience, they could face a ban from public office, joining a long list of Catalan officials sacked for their role in the independence push, including former president Quim Torra and members of the cabinet that called a referendum and attempted to break away from Spain in 2017.