Flanders minister-president calls on 'Europe and EU courts' for Catalan exiles solution
Jan Jambon meets with pardoned leaders in Barcelona and pro-independence MEPs including Puigdemont online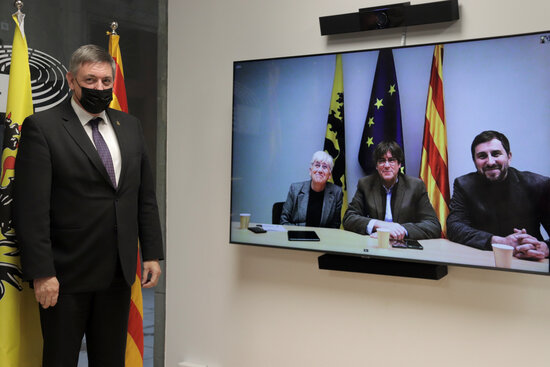 The minister-president of Flanders, Jan Jambon, has called on "Europe and EU courts" to solve the issue of the exiled Catalan pro-independence MEPs, who "can't travel freely" around Europe.
Jambon, in Barcelona, met online on Tuesday with former Catalan president Carles Puigdemont and fellow Junts MEPs Toni Comín and Clara Ponsatí in Brussels, a situation he described as "a little bit strange."
"You should expect to meet the MEPs elected in Catalonia in person, but we had to make a digital connection with them because they are not allowed to come to their own constituency," Jambon told the Catalan News Agency (ACN) after the meeting.
Puigdemont, Comín and Ponsatí are wanted by Spanish authorities for their role in the 2017 independence push, but extradition attempts, most recently through the Italian justice system, have proven fruitless.
"An MEP who is elected and can't travel freely to Europe; this is something that Europe and the EU courts have to solve," Jambon said.
The leader of the Flemish government was wary of making a pronouncement on the way forward for the Catalan independence movement. "I don't want to intervene in the political processes of Catalonia, dialogue yes or no, that's up to Catalan parties and the president of Flanders cannot take a position."
He also ruled out playing a role in any negotiations between the Catalan and Spanish executives. "I don't think Flanders has enough authority versus Spain to play an intermediary role," the New Flemish Alliance politician said. "It's not the role of another region. It's up to Catalonia and Madrid to find the best form of Catalan political solution to the Catalan question."
Jambon, whose party is in favor of a spilt from Belgium, was in Barcelona to attend the Smart City Expo World Congress, and had discussions with various Catalan tech institutions on the topics of "digitalization and modernization of technology."
On Monday evening, the minister-president attended a dinner with some of the previously jailed, now pardoned pro-independence leaders, something he said that the parliament of Flanders would "unanimously" support. Jambon said the message he wanted to bring to the former prisoners, an opinion shared by all political parties in Flanders, was that "political action ... can't be condemned in democracy."