Days and places that shaped exile of Catalan leaders, one year on
Carles Puigdemont and other former officials are free to spread their message in Europe after two failed Spanish extradition requests and 12 days in prison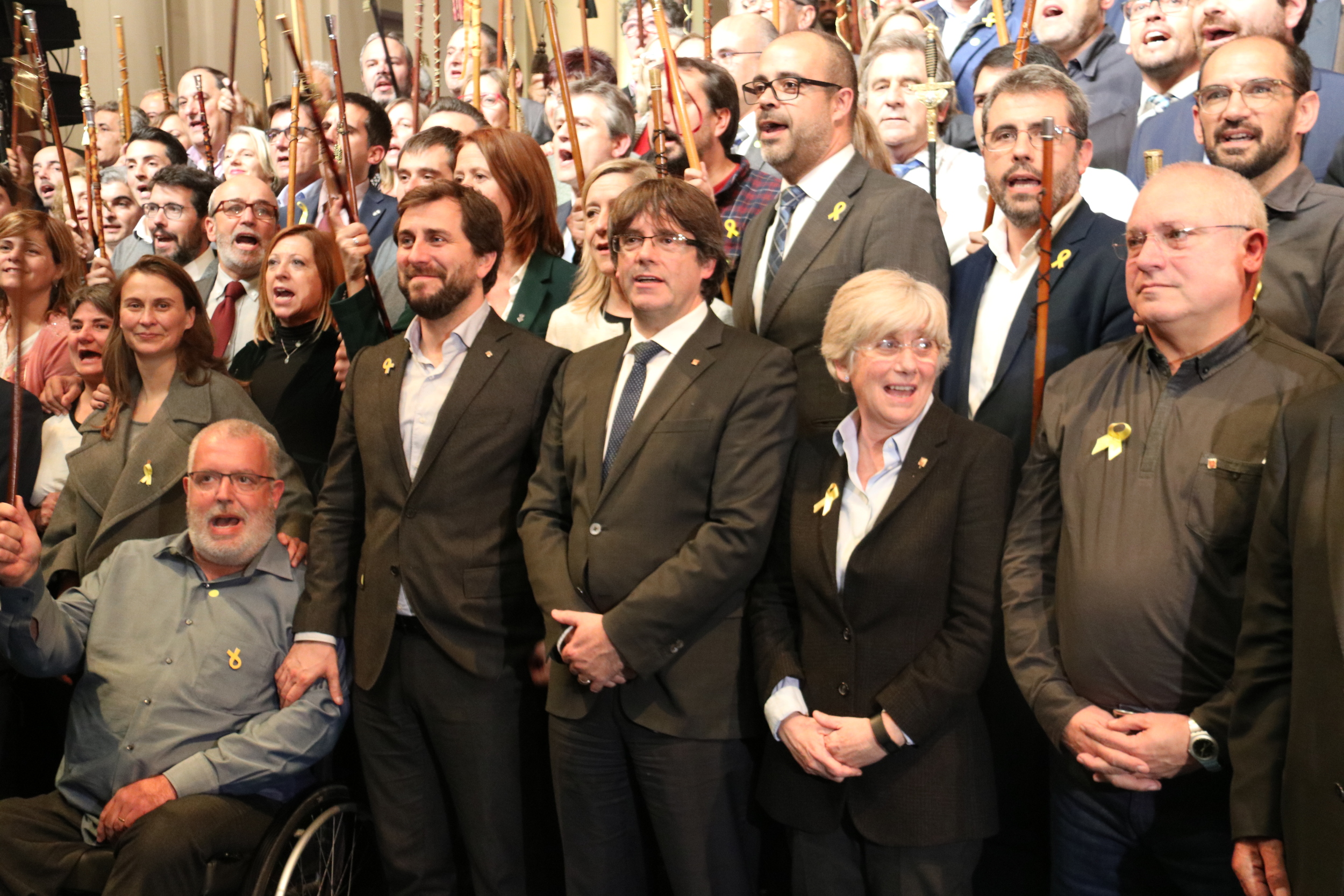 Seven Catalan leaders who played a key role in the 2017 independence bid are in exile, and most of them for exactly a year now. This has caused the Catalan issue to go international and get on the agenda in European countries, such as Belgium and Germany. What were the developments that shaped this year, and where did they take place?
October 28-29, 2017: Last image in public of Puigdemont in Catalonia
The day after Parliament's declaration of independence, with the government sacked by Madrid, Puigdemont walks with his wife in Girona in what would be his last public appearance in Catalonia before he moved to Belgium.
October 30-31: Puigdemont and ousted ministers travel to Brussels
Puigdemont and some of his former ministers turn up in Belgium. The sacked president tells a crowd of reporters that he is in the "European capital" not to ask for political asylum, but to be able to "act freely and safely."
November 3-5: Catalan politicians appear in Belgian court
Puigdemont and his four former ministers voluntarily appear in front of a Belgian court after the Spanish judiciary issues international warrants for their arrests over rebellion charges. The Catalan officials are allowed to go free on bail while the court examines the requests to extradite them.
December 5: Spain withdraws extradition order for Puigdemont
A Belgian court is to decide on the extradition of Puigdemont and his colleagues the following week, but Spain's Supreme Court decides to withdraw all European arrest warrants over concerns that they are extradited, but not for rebellion. Judge Pablo Llarena gives up extraditing them, but only temporarily.
December 7: Thousands of Catalans demonstrate in Brussels
Some 45,000 people travel to Belgium to take part in a protest organized by the ANC and Òmnium pro-independence civic organizations, under the slogan "Wake up, Europe."
December 21, 2017: Election confirms pro-independence majority in Catalan Parliament
Puigdemont and his former ministers run in the Catalan election, and follow the results in Belgium. Pro-independence parties keep hold of their parliamentary majority. Addressing the press, Puigdemont insists that "the legitimate government must be allowed to return and the political prisoners released," in reference to former ministers in pre-trial jail in Spain.
January 22, 2018: Puigdemont travels to Copenhagen
After three months in Belgium, Puigdemont leaves the country for the first time to attend a debate at the University of Copenhagen, in Denmark. The Spanish courts decide not to reissue a European arrest warrant despite the prosecutor having requested it. Puigdemont tells the audience that the political situation in Catalonia is "as crucial for the future of the European Union as Brexit."
February 20, 2018: Pro-independence leader seeks refuge in Switzerland
Former CUP MP, and a leading figure in the independence movement, Anna Gabriel, fails to appear in a Madrid court to testify and instead emerges in Geneva, arguing that she has decided to leave Catalonia over fears about getting a fair trial in Spain.
March 22-23, 2018: Spain issues a new arrest warrant with Puigdemont in Finland
While Puigdemont travels to Helsinki to meet Finnish MPs and attend conferences, Spain issues a second European Arrest Warrant for him and the other politicians in Belgium and in Scotland. The former president decides to return to Belgium early, by car. In Catalonia, the Parliament prepares for MP Jordi Turull's investiture debate.
March 23, 2018: ERC party head leaves for Switzerland
Marta Rovira, the Esquerra party (ERC) secretary general, also turns up in Switzerland. She justifies her decision to leave Catalonia, saying: "I am in Switzerland to continue fighting against political persecution and to recover my freedom of expression."
March 25, 2018: Puigdemont arrested in Germany
The former Catalan president is detained by German police on his way back to Belgium from Finland. He then spends the next 12 days in the Neumünster prison before a court releases him on bail on April 6, while it considers Spain's request to extradite him.
March 28, 2018: Former minister Ponsatí free in Scotland
Former minister Clara Ponsatí has moved to Scotland, where an extradition case against her opens. She hands in to Scottish authorities, which leave her free on bail while waiting for a final decision.
May 16, 2018: Belgian court refuses to extradite former Catalan ministers
Three of the ministers who went to Belgium with Puigdemont -Toni Comín, Meritxell Serret and Lluís Puig- are free to move around Europe after a Belgian court turns town Spain's request to extradite them, citing "irregularities" in the warrant.
July 19, 2018: Spain drops all extradition orders
Spain's Supreme Court again withdraws all extradition orders after Germany rejects handing in Puigdemont for the charges of rebellion—the most serious accusation against Catalan leaders. Apart from the former president, this affects the three ministers in Belgium: Toni Comín, Meritxell Serret, and Lluís Puig; as well as Clara Ponsatí, in Scotland; and Marta Rovira, in Switzerland.
July 28, 2018: Puigdemont back in Belgium after four months in Germany
Former Catalan president arrives back in Belgium and is free to continue his political activities, such as spreading the word about the situation in Catalonia abroad. He takes up residence again in Waterloo, home to the Casa de la República (House of the Republic).