Puigdemont leaves German prison
The deposed Catalan president says that "it's a shame for Europe to have political prisoners"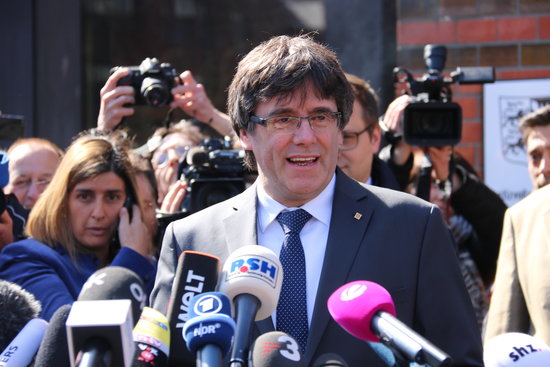 Carles Puigdemont left the Neumünster prison in Germany on Friday afternoon, a day after the Schleswig-Holstein court decided to release the deposed President of Catalonia on bail while a final decision on his extradition to Spain is made.
"I always trusted in a European democracy based on the will of the people, separation of powers, peace and human rights," Puigdemont told the media shortly after leaving jail. "This kind of democracy is at risk in Spain."
Catalonia's most prominent independence leader has spent 12 nights in jail. German authorities arrested him on March 25 after European Arrest Warrants were issued by the Spanish Supreme Court against Catalan officials seeking refuge abroad.
Puigdemont's detention came as a shock for pro-independence supporters. The deposed president had avoided prosecution since leaving the country in October, following a declaration of independence that prompted Spain to impose direct rule on Catalonia and dismiss all government members.
Yet, the German judiciary dealt a major blow to Spain on Thursday with the announcement of Puigdemont's release. More importantly, the Schleswig-Holstein court rejected the charges of rebellion, translated to the German crime of high treason, due to the absence of any violence.
Rebellion is the most serious crime for which pro-independence leaders are being prosecuted in Spain. It carries prison sentences of up to 30 years. Currently, nine deposed officials charged with the crime are being held behind bars in Madrid.
"I ask for the immediate release of all my colleagues who continue to be held in Spanish prisons," said the deposed president. "It's a shame for Europe to have political prisoners."
Puigdemont's release comes with conditions. The deposed president's €75,000 bail was paid by pro-independence organizations and their solidarity fund. Puigdemont will have to present himself at a police station on a weekly basis and will not be allowed to leave the country until a final decision on his extradition is made.
The judge decided to admit consideration of the European Arrest Warrant, but only for the crime of misuse of public funds, thus closing the door to the crime of rebellion should Puigdemont be extradited to Spain.