Clara Ponsatí 'never committed any criminal offence,' says her lawyer
Aamer Anwar is heading the defense for deposed Catalan education minister Clara Ponsatí, currently in Scotland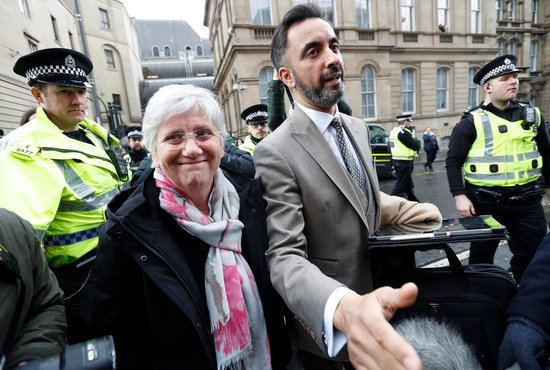 Scottish lawyer Aamer Anwar is currently heading the defense for deposed Catalan Minister of Education Clara Ponsatí, who left Catalonia shortly after the declaration of independence in October 2017, going first to Belgium and then traveling to Scotland to resume her career as professor of economics at the University of Saint Andrews.
The Spanish government however reactivated the European Arrest Warrant against her and other dismissed officials abroad. Anwar accompanied her through the process, including appearing before the Scottish judge in response to the warrant, who ultimately ruled she be let out on bail while awaiting a final decision on the matter.
Anwar is currently rector at the University of Glasgow, and as a lawyer is known for his left-wing political views and human rights activism, having participated in various campaigns and movements. He gave an exclusive interview to Catalan News on Clara Ponsatí and the current situation she is in.
What is the strategy of Clara Ponsati's defense team?
[The strategy is] to oppose the extradition attempts by the Spanish authorities. We believe that we will not get due process in Spain, we don't believe that the Spanish judiciary is independent, and that if she is returned back to Spain she can't be guaranteed her human rights and a right to a fair trial. We believe this is a deliberate attempt by Spanish authorities to criminalize a desire for independence.