Covid-19 handling, health system and independence heat up TV3 Catalan election debate
Opposition blasts Catalan and Spanish government parties as far-right Vox's arguments spark outrage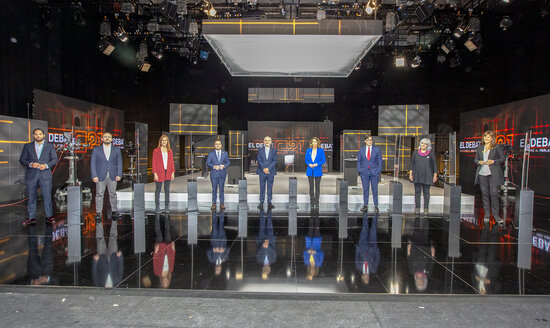 An unprecedented debate with nine Catalan presidency bidders in unprecedented circumstances, amid the third wave of Covid-19 took place on TV3 public broadcaster on Tuesday to help undecided voters ahead of the February 14 election.
And precedentedly, the discussion was very heated and whether it helped clarify remains up in the air.
The management of the Covid-19 crisis by those parties in the Catalan and Spanish governments, the measures to boost the economy and the public health system contributed to a spirited debate, as well as the independence issue and the arguments of far-right Vox party.
Socialist candidate target of criticism
Several parties targeted the Socialist candidate, Salvador Illa, for his role as Spanish health minister and for the management of the pandemic by Madrid.
The political forces forming the Catalan executive, and especially Esquerra, the junior partner, were also the target of some attacks.
Parties partly sharing ideology had some rows, such as Vox, People's Party and Ciudadanos in the unionist right wing, PDeCAT and JxCat in the center-right pro-independence field and CUP, Esquerra and Catalunya en Comú in the left-wing pro-referendum camp.
Managing Covid-19 and social policies
As for the way forward in the pandemic, Illa said that "70% of residents will be vaccinated in summer" – which prompted the People's Party frontrunner, Alejandro Fernández, accusing the former Spanish health minister of having "no credibility."
Meanwhile Junts per Catalunya's candidate, Laura Borràs, representing the main government party, expressed that "the managing of the health system must change" – their junior partners, Esquerra, is in charge of the health department.
Borràs announced that the current public health secretary, Josep Maria Argimon, would become minister if they lead the new government.
For anti-austerity Catalunya en Comú – Podem, "Catalonia has a problem with its health model, where what is public and private is mixed up."
Something shared by far-left CUP's frontrunner, Dolors Sabater, who suggested a fully public health system and the establishment of a public pharma – as for social policies, she proposed a universal basic income through a tax reform – yet, asked by ERC's Pere Aragonès, she failed to develop on such a reform.
Far-right Vox sparks outrage
For far-right Vox's presidential hopeful, Ignacio Garriga, more public money needs to be spent on the pandemic and for that aim, he pledged to shut the Catalan broadcaster TV3 and entities such CNL, promoting Catalan language. "Separatists and the left have been stealing public money from Catalans for decades," he said.
He also requested fewer aids for young unaccompanied migrants, which sparked the outrage of a number of parties. Indeed, the CUP candidate, Dolors Sabater, called on the moderator, Vicent Sanchis, to interrupt Garriga.
Vox's leader also called for pro-independence leaders, such as ERC's Pere Aragonès, to be jailed.
"I am not going to accept these far-right arguments and that you threaten me," he replied.
Independence debate and coalitions
ERC's Aragonès called for a large coalition with all parties supporting "self-determination and the end of Spain's repression" – that is, repeating an alliance with JxCat, but also adding CUP and PDeCAT.
However, center-right PDeCAT candidate, Àngels Chacon, asked Aragonès whether he would accept a government with anti-capitalist CUP, "who defend squatting" – yet, she called for a joint strategy to reach independence and, like Aragonès, prioritizes dialogue with Spain.
As for JxCat's Laura Borràs, she called for reviving the 2017 independence referendum spirit, pushed for a government with ERC and CUP and asked Aragonès whether he will accept the unionist Socialist support.
Neither Aragonès nor Illa looked ready for any deal with each other – and the Socialist prioritized a cabinet with Catalunya en Comú – Podem.
As for the unionist Ciudadanos candidate, Carlos Carrizosa, he called on the pro-independence camp to not use "the people of Catalonia" to talk about themselves because they are only "a part" of the people and called for a unitary unionist bloc.
The People's Party candidate Alejandro Fernández also hopes for unionist parties to prevent a new majority of those supporting a Catalan republic, and he said that during the peak of the independence push, unionists "were treated as foreigners in their land".
Fernández called for post-Franco transition spirit in order to "return to coexistence" in Catalonia.