Catalan-Spanish meeting on Friday likely as talks progress
"Mini-summit": Madrid open to including ministers in presidential reunion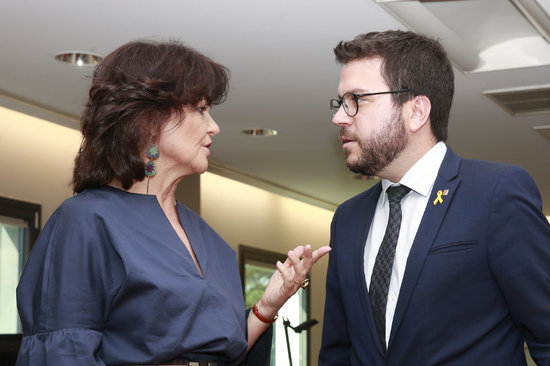 The Catalan and Spanish governments could convene on Friday as president Pedro Sánchez and his ministers will travel to Barcelona, where they will hold an exceptional cabinet meeting.
While initially ruling out any gathering between both executives, Madrid later confirmed that Sánchez is willing to meet his Catalan counterpart, the pro-independence leader Quim Torra.
Although a summit encompassing all 32 members of both executives seems unlikely, Sánchez's second-in-command, vice president Carmen Calvo, opened the door to a "mini-summit" between both executives.
According to Calvo, a recent meeting with her Catalan counterpart Pere Aragonès, and the Catalan government spokesperson Elsa Artadi, went "wonderfully well." As tensions between governments in Madrid and Barcelona intensified in recent weeks, Calvo stressed the importance of "giving a chance to politics."
Pro-independence groups called demonstrations to protest against the Spanish government meeting, with some seeing it as an act of provocation, considering the ongoing political conflict between both executives.
Catalan officials stressed that they don't expect the meeting with Sánchez to be a mere formality, but an occasion when they can really discuss politics and pro-independence parties demands'.