Catalan president sentenced to 18 months disqualification over yellow ribbon row
Quim Torra, who can appeal ruling, failed to remove signs in favor of jailed leaders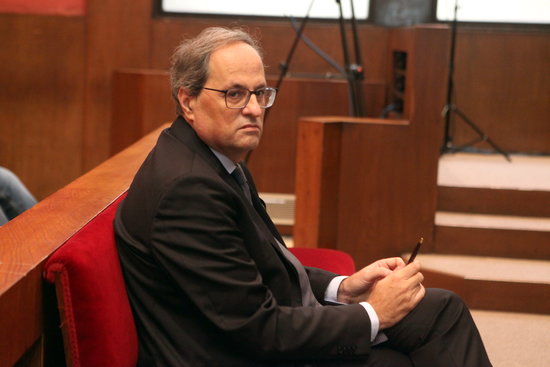 The Catalan president, Quim Torra, has been sentenced to 18 months political disqualification after failing to withdraw signs in favor of the jailed leaders from the Catalan government HQ in time during the electoral campaign, as ordered by Spain's electoral authority.
Catalonia's high court has also fined him 30,000 euros, but its decision is not final. Torra can still appeal the decision at Spain's Supreme Court, the one which tried the 2017 referendum leaders.
If he does not challenge the decision, he will be automatically ousted from power in the coming days – it is expected he does appeal the ruling, so the final decision will be at the Supreme Court's hands.
In any case it is the first time in modern history that a Catalan president in office is condemned to disqualification.

Yellow ribbon trial
The president faced trial for failing to comply in time with an order from the Electoral Board to remove symbols deemed "partisan" from the front of the government building in Barcelona in the run-up to the Spanish general election at the end of April.
Torra initially refused, before eventually changing the hanging banner to one defending freedom of speech, but not until after the deadline he was given to remove the yellow ribbon banner had passed.
In court, the president argued that the electoral board "had no right to issue such an order" for him to remove the banner.
Torra went on to admit to the court that he had "disobeyed" Spain's electoral authority by failing to remove the symbols, but he added that "complying with an illegal order was impossible." He denied that the expression 'political prisoners' that featured on the banner was partisan, arguing that "it is a way of speaking allowed by freedom of speech."
What are the yellow ribbon symbols?
The yellow ribbons became the symbol of solidarity with the Catalan leaders tried and sentenced to prison by the Supreme Court over the bid to split from Spain in 2017.
After they were arrested in the aftermath of the unilateral independence referendum in autumn 2017, people sympathetic to their cause have worn yellow ribbons or hung them from buildings, including many public buildings.
Cs call for Torra resignation
Leader of the opposition and unionist Ciutadans party, Lorena Roldán, called on the president to leave his post following the guilty ruling.
Roldán said that Torra should "step out of the way of those of us who have solutions for Catalonia."