Quim Torra president: how did we get here?
A new head of Catalan government is elected on day 200 after the Spanish executive dismissed Puigdemont's cabinet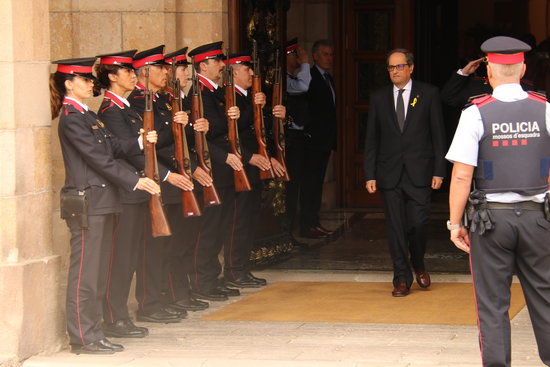 Quim Torra is the new Catalan president. And his unlikely rise to office can't be disentangled from the exceptional circumstances that led to it. He was elected on Monday, on day 200 after the Spanish executive dismissed Carles Puigdemont's cabinet and established direct rule on Catalonia. These are some of the key dates.
October 1
The day that changed everything. After years of mass demonstrations and political tensions with Spain, Catalans vote in a referendum on independence. Spain sends police to stop the vote, leaving more than 1,000 people injured. The vote in favor of independence wins, but less than half of the population cast their ballots.
October 27
The Catalan parliament declares independence. President Carles Puigdemont delivers on his promise... and so does his Spanish counterpart, Mariano Rajoy. He sacks Puigdemont and all his ministers, imposes direct rule on Catalonia, and calls a new election for December.
November 2
Spanish courts enter the ring. All government members are sent to prison accused of rebellion… all except Puigdemont and those politicians who left Catalonia to seek refuge in other European countries. As of today, nine people are still behind bars, including two pro-independence activists, while seven are abroad.
December 21
Pro-independence parties hold on to a majority despite their leaders being either in jail or abroad. Unionist Ciutadans becomes the most voted party, but Puigdemont, in Belgium, is the only candidate with enough support to be elected president.
January 30
Puigdemont's appointment is postponed. Spanish courts make it clear that he can't be president from abroad. The Catalan leader proposes alternative candidates, but they're all blocked too.
March 23
A new wave of imprisonments. Spain indicts 25 Catalan leaders for their role in the independence bid and imprisons Jordi Turull, an MP who was to be elected president.
April 6
Puigdemont walks free in Germany. Arrested while traveling, he is released on bail while a final decision on his extradition to Spain is made. Other pro-independence leaders face similar processes in Scotland, Belgium and Switzerland.
May 10
Puigdemont chooses Torra as his successor and paves the way for the formation of a new government in Catalonia.