How we got here: President Quim Torra's disqualification by Spain's Supreme Court
Why yellow ribbons in solidarity with jailed independence leaders, Cs, an electoral board, and top courts cost Torra his post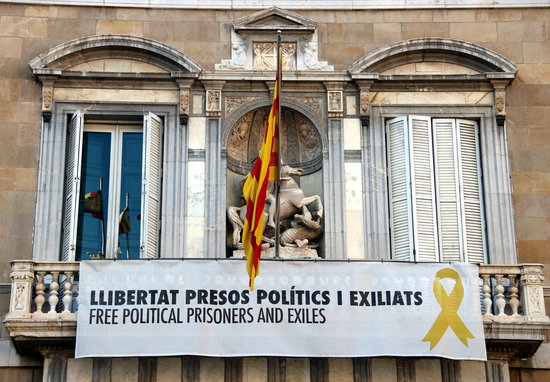 Catalan president Quim Torra has been barred from office for a year and a half by Spain's Supreme Court, which confirmed Catalonia's High Court's December 2019 ruling on Monday.
But how exactly did this happen?
After a dizzying year pandemic-related news, one would be forgiven for failing to keep up with the ins and outs of (one of) Torra's disobedience cases.
To help those of you stunned by the latest turn in Catalan politics better understand why Torra has been barred from public office, here at Catalan News we've put together a timeline with the key events leading up to his disqualification.
March 11, 2019: The Spanish Electoral Board (JEC) orders Quim Torra "to immediately remove all pro-independence 'estelada' flags and yellow ribbons [in support of jailed leaders] from public buildings that depend on the Catalan government" within 48 hours following a Ciudadanos complaint regarding their impartiality during an electoral period. According to the JEC, these are "partisan symbols used by electoral formations running in the [general] election" in Spain on April 28.
March 15, 2019: Cs and PP file another complaint with the Catalan public prosecutor after Torra fails to remove the "separatist propaganda" by the deadline set by the electoral authority while the Spanish government warns him he must comply with their orders. Meanwhile, Torra claims the yellow ribbons are not partisan as they cannot be associated with "one specific political formation."
March 18, 2019: JEC asks that the symbols be taken down once again, this time within 24 hours, and threatens legal action if this is not carried out.
March 20, 2019: Catalonia's Ombudsman advises Torra to take down the signs, which the President says he will do.
March 21, 2019: The electoral authority asks the Spanish public prosecutor's office to determine whether Torra could be guilty of disobedience for not heeding orders to remove the pro-independence symbols on March 11 and March 18. A yellow ribbon on government headquarters is changed for a similar one in white, leading to further Cs and PP complaints as Spanish president Pedro Sánchez asks Torra to "respect the Catalan government's neutrality."
March 22, 2019: Catalan government workers take down the signs to avoid police intervention, replacing it with an alternative banner calling for freedom of expression.
May 15, 2019: In a preliminary hearing in the Catalan High Court (TSJC)to determine whether he can be charged with disobedience, Torra defends his right to defy the board's order to remove the signs: "I owe a debt to a higher public mandate to defend human rights."
November 18, 2019: TSJC tries his disobedience case. Torra admits he has "disobeyed" but says "complying with an illegal order was impossible"
December 19, 2019: TSJC convicts Torra for disobedience and rules in favor of barring him from office for 18 months and gives him a €30,000 fine for not taking down the banner in question when he was requested to do so. This ruling, however, is not final as it can be challenged in the Supreme Court.
January 3, 2020: Spanish electoral board orders Torra to be removed from his Catalan MP seat. According to Catalan law, the president has to be an MP in order to take office, but Torra's defense argues that the law does not say that the president has to be an MP for the entire presidential term.
January 10, 2020: Supreme Court rejects calls for an immediate overruling of the Electoral Board's decision to bar Torra as an MP
January 11, 2020: Barcelona's provincial electoral board declares Torra's MP seat in the Catalan Parliament vacant
January 23, 2020: Supreme Court confirms Torra's MP suspension. Torra argues that only the Parliament can remove him from his MP seat.
January 25, 2020: The Barcelona electoral board confirms Torra's MP seat vacancy.
January 27, 2020: The Catalan parliament's secretary general orders Torra's MP seat should be removed, with Ciudadanos arguing that he is no longer president and other parties claiming he can still keep his presidential post without maintaining his MP post. Torra continues to act as president, something that goes unchallenged.
February 4, 2020: Torra appeals the TSJC ruling barring him from office for disobedience to the Supreme Court and asks for it to be suspended as a precautionary measure until the top Spanish court reaches a decision on the matter.
February 26, 2020: Eldiario.es reveals that JEC member Andrés Betancor worked as a paid consultant for Ciudadanos. A day later, Torra says he will file a complaint against him.
September 17, 2020: Supreme Court reviews Torra's case in a hearing in which his lawyer argues that placing the symbols on public buildings were a political act protected by the right to freedom of expression.
September 28, 2020: Supreme Court upholds the top Catalan court's sentence, thereby confirming Torra's 18-month political disqualification.