Injury tally at 639 following renewed unrest on Saturday
Seven more people were arrested amidst more disorder in Barcelona despite a calmer week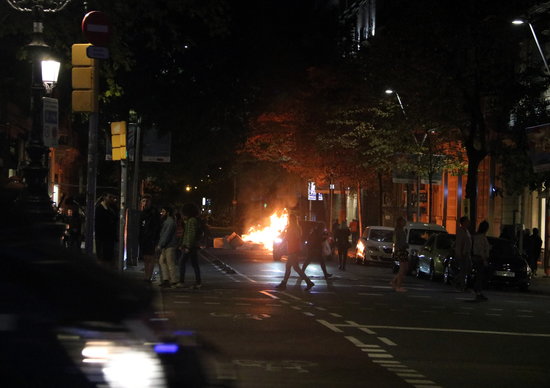 46 more people were injured in Catalonia as Barcelona once again descended into unrest on Saturday night, taking the total number of injuries in the aftermath of the conviction of nine leaders behind the 2017 referendum to 639.
44 were injured in Barcelona and a further 2 in the seaside town of Mataró, as altercations on Saturday night followed an evening of protests in Barcelona in which 350,000 people took to the streets with the slogan ''Llibertat.''
25 of those injured in Saturday's altercations were Catalan Police officers, and a further three were members of the National Police. Three people were hospitalized following injuries in Saturday's events, but none are considered to be in a serious condition.
It was a much calmer week in Catalonia after the week in which the guilty verdict was released sparked mass protests that descended into disorder on a daily basis, injuring 593.
In this time, civil rights organizations identified 122 cases of police violence across that week.
Indeed, October 20 marked the last day of unrest before the protests on Saturday, and also marked a drop in tensions.
On Saturday, a further seven people were arrested, with five of them given provisional release and all seven banned from participating in future protests as a precautionary measure.