2023 budget to 'modernize' airport, increase health spending, and promote renewables
All-time high €40bn spending plan set to come into effect in March after Esquerra-Socialist deal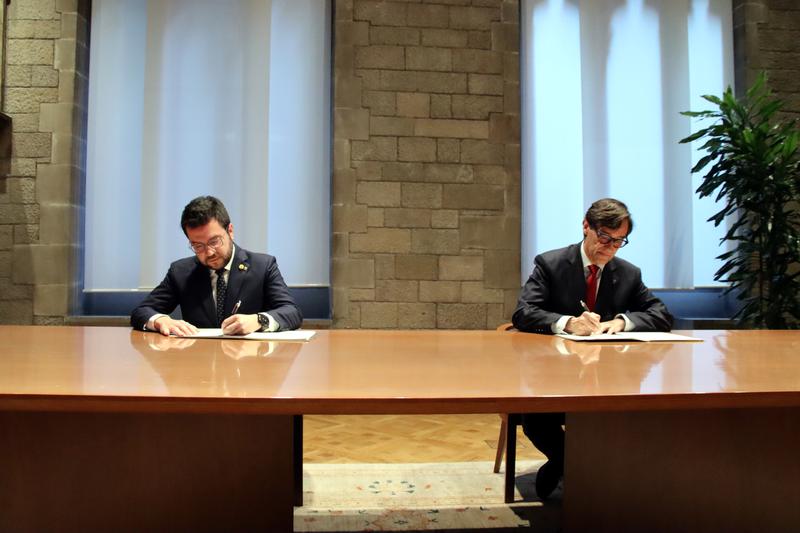 Catalonia is now one step closer to having an ambitious €40bn spending plan, an all-time high, for 2023 after governing Esquerra Republicana and the Socialists announced a budget deal on Wednesday morning.
The agreement, signed by president Pere Aragonès and PSC leader Salvador Illa on Wednesday afternoon, will now be sent to Parliament, where it is expected to be approved, and is set to come into effect in March.
B-40 highway, Barcelona airport, and Hard Rock casino
Infrastructure was one of the greatest hurdles Esquerra and the Socialists had to overcome to reach an agreement, with the governing party eventually acceding to the opposition party's demands regarding the B-40 highway, the Barcelona airport, and the Hard Rock casino-hotel complex.
The 2023 budget deal states that the Catalan and Spanish governments will have to reach an agreement on the so-called Ronda Nord project for the Vallès area northwest of Barcelona by the end of the first quarter.
As for the Barcelona airport, there will be a new technical committee formed by members of the Catalan and Spanish governments to find a way "to improve its capacity to make it a true intercontinental hub" that "respects biodiversity" and takes into consideration residents' concerns.
Catalan presidency minister Laura Vilagrà, who addressed the press on Wednesday morning in Barcelona, said both parties agreed on the need to "modernize" facilities, but that discrepancies remained over how to do so. A little over a year ago, authorities were at odds over building a new runway and plans were shelved. In any case, the budget will also see €49m go to the airport's surrounding Delta del Llobregat area to implement more efficient agricultural techniques while protecting biodiversity.
The deal states that plans to build the southern Catalonia Hard Rock casino-hotel complex will go ahead subject to the approval of the urban development plan by June 2023. These were halted last October due to environmental criteria. It also stipulates that authorities will "ensure the work necessary to complete the Mediterranean train corridor's passage" in the southern Catalonia region of Camp de Tarragona.
€12.2 billion for health
Slightly under a third of the budget – €12.2 bn, €1.284bn more than last year – will go towards strengthening the public health system, which has seen an increase in demand over the past few years due to the population aging and Covid-19.
Of these €12.2bn, around a quarter will be for the primary care system, and will also be used to improve working conditions as well as to hire 4,370 more medical professionals. €30m will go towards mental health, particularly among children and teens, while another €30m will be for public health policies. Another €50m will be used to lower the waiting period for surgery, diagnostic tests, and outpatient consultations.
Around 5% of the health budget will be used to improve facilities at the Vall d'Hebron, Trueta, Clínic, Parc Salut Mar, Tortosa, Vendrell, Calella, Blanes, and La Seu d'Urgell hospitals.
50% more for renewables
Catalonia, where renewable energy lags behind other parts of Spain and Europe, will be increasing spending in this sector by 50% on 2022 figures, with €180m going towards installing production devices in homes and businesses.
The budget will also see €25m allocated to the public energy company, €4m to hire 75 more people for the Catalan government's climate action department, and €54m to renovate buildings and improve their energy efficiency, while €700m will go towards water management policies and treatment plants as Catalonia's water crisis continues.
All in all, the climate action department will receive €1.412bn, almost 20% more than last year.
Employment and re-industrialization
1.5% of the budget, or €700m, will be used to promote economic activity, while 2.1% of it, or €951m, will go towards fostering employment. €680m will be allocated to the National Pact for Industry, which seeks to re-industrialize Catalonia and is being treated as a priority, and SOC unemployment offices will receive €585m.
Of the €700m set aside to promote economic activity, €144 will be for the Catalan Enegery Institute, €70m for the public company that manages the Fira Barcelona trade show venue, and €283 will go to various departments and organizations.
18% of budget for education
The agreement will see €8.058bn allocated to education policies, just under 18% of the budget. This includes €6.487bn for general education, €1.168 for higher education, and €244m for scholarships and other forms of financial aid.
There will also be €52.3m for daycares to ensure they are free for two-year-olds, while semi-private schools will be receiving an additional €39m and trade schools will be getting €99m. This will allow the public education system to provide another 6,804 teachers with permanent contracts, a long-standing demand.
The Catalan education department's budget will increase by 11% to €6.825bn, €6.960 with Next Generation funds, while the research and universities' will go up 10% to €1.580bn or €1.589bn with EU recovery assistance.
Improving rail networks
Esquerra Republicana and the Socialists have agreed to spend €19.7 million on improving Barcelona's subway, Ferrocarril and Renfe train, as well as the tram network, making stations more accessible.
The deal also sees greater focus put on expanding the train network in western Catalonia's Lleida area and exploring more connections to and from parts of central Catalonia and the south.
27% more to combat gender inequality
Catalonia's equality and feminism department will receive €115m, 27% more than last year. €38.5m will be used to improve assistance to victims of sexist violence as well as to help local councils deal with emergencies. €26m will go towards care policies, especially for children and teens, while €16m will be for migration, refuge, and anti-racism policies.