Governing party Esquerra to vote for motion of B-40 road, paving way for 2023 budget deal
New highway plan backed by Socialists main obstacle for approval of spending plan until now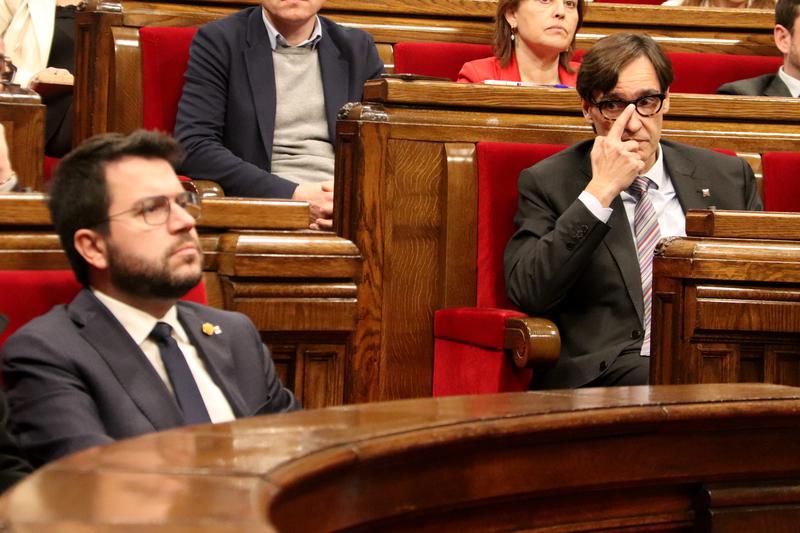 The 2023 budget deal is now nearer to becoming a reality after weeks of deadlock in talks among parliamentary groups, as government party Esquerra has announced it will vote for a motion of the B-40 road.
"With this decision, there are no more complications to approving the budget, there are no more excuses," Catalan president Pere Aragonès said, explaining he was aware the decision would not please all but that it was necessary in order to "serve people in a country with diverse opinions."
Esquerra is the only party in the Catalan government and needs the support of some opposition forces to see their spending plan for this year passed.
Far-left En Comú Podem gave their support to the budget in December, and either the Socialists or former government allies Junts are needed to garner a majority.
Talks with the latter have not seen much progress, while negotiations with the Socialist party had found a significant degree of consensus but were stuck in the B-40 road.
The left-leaning leading opposition party in Catalonia wanted to see a budgetary commitment to building the highway, which would better connect northern Barcelona metropolitan areas, such as the cities of Sabadell and Terrassa.
The Socialist party say they are eager to reach a budget deal, but warn there are still things to be agreed upon.
Esquerra was reluctant to the project, arguing environmental concerns, and aimed to boost public transport connections in the area instead.
Yet, on Thursday, the pro-independence governing force announced their backing to a parliamentary motion on the B-40.
"If this motion is useful to find a way out of the deadlock in the budget talks, we will pursue it," said Esquerra MP Ferran Estruch.
"It is now up to you to decide that this is no longer an obstacle," he said to MPs, especially the Socialists, who were opposing the budget unless this highway was included.
It remains to be seen how this project will be included in the 2023 spending plan and whether it persuades the Socialists.
So far, Socialist leader Salvador Illa has already announced that the budget deal negotiations will "restart" on Monday, as there is still "work and some specifications to finish," he said during a press conference in the afternoon.
"Until today, there was a big challenge that today we were able to solve," he added.
Also, En Comú Podem, which is also necessary to garner enough seats to pass the budget law, was flatly against this boost to private transport, and whether their current stance could change is also up in the air.