Barça football ground and Sagrada Família possible vaccination centers
'Emblematic' spaces suggested by public health secretary to encourage general public to get jabs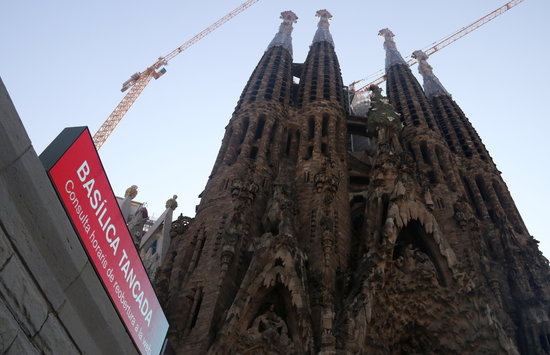 Barça's Camp Nou football ground, Barcelona's Sagrada Família and other "emblematic" spaces could become Covid-19 vaccination centers in the generalphase of the campaign, suggested Catalan public health secretary Dr Josep Argimon, during an interview with Catalunya Ràdio on Tuesday.
The aim of opening up such magnificent spaces for inoculation is to inspire the general public to get vaccinated, and raise awareness around the importance of inoculation.
Indeed, both of these are cultural giants of Catalonia, the Sagrada Família is a UNESCO World Heritage Site that has been under construction for more than a hundred years, and Camp Nou is the biggest stadium in Europe.
Another suggestion is the Catalan National Museum of Art's (MNAC) Oval Room. An impressive piece of architecture, that is 34 meters long and 11 meters high, it is one of the largest event spaces in Europe, with a capacity for 1,400 people.
Nothing has yet been secured when it comes to the acquisition of Antoni Gaudí's architectural masterpiece, but once the new president of Barcelona's Football Club is elected on March 7, the Catalan health department will begin the steps to bring in Camp Nou for the campaign.
Current phases of vaccination
These symbolic places are planned to be used for the third phase of the campaign, which will include all non-priority individuals that did not receive doses in the initial two stages.
In the next three months, as part of phase two beginning this week, essential workers will be vaccinated. In this same interview with Catalunya Ràdio, Argimon assured that teaching staff would also be included in this step.
Within this are also included physiotherapists, pharmacists, prison staff and health assistants.
As health minister Alba Vergés explained on Monday, 31,800 doses of the AstraZeneca vaccine have been delivered. Since, the vaccine has yet to be authorized by the European Union for those over 55, phase two has begun in parallel with phase one.
The scheme has three phases, with the first comprising health professionals, care home users, and largely dependent people living at home, however this phase has not yet been completed.
New goals of vaccination campaign
The Catalan health department has urged for more vaccines to be delivered, making clear that their system is ready "to administer 150,000 doses per day."
Vergés presented an update to the vaccination plan on Friday, reminding that a mass administration of doses is possible since around 1.5 million people have been given the flu jab in two months, with peaks of 60,000 per day.
She still believes that achieving the stated aim of immunizing 70% of residents by the end of summer would be possible, "pending that the EU complies" with the supply of doses it has committed to.