Tourism boom in Barcelona: strengthening the economy or troubling local residents?
Barcelona is the 4th most visited city in Europe and the 16th in the world, welcoming 8 million tourists each year. It is acknowledged to be Spain's industrial hub where international trade fairs and conferences are being held. In addition, it is one of the top destinations among Erasmus students and the main cruise ship harbour in Europe. However, thanks to cheap airlines, Barcelona has also developed a reputation for low-cost tourism that often focuses on holidays of beach, booze and partying. On the one hand, this shows the young and fun atmosphere of the city and contributes significantly to the economy. On the other hand, according to locals, the so-called ''drunken tourism'' tarnishes Barcelona's reputation and has negative impacts. The City Council aims to control this kind of tourism and is currently attempting to introduce stricter regulations for holiday rent apartments. It has already banned land-based bar crawls around the city and wants to ensure the legality of alcohol-based boat trips as it does not have control over the city's waters.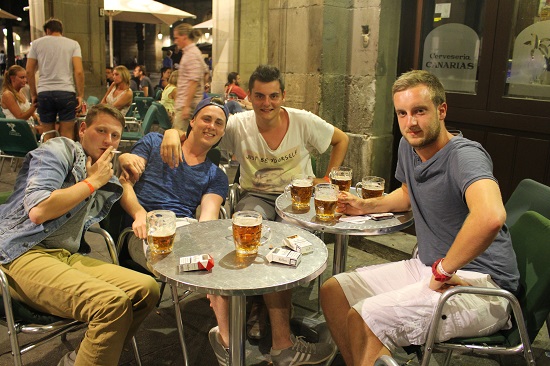 Barcelona (CNA).- Barcelona is the 4th most visited city in Europe, after London, Paris and Rome, and the 16th in the world, with 8 million visitors each year. With a population of around 4 million, the Barcelona metropolitan area is the densest on the Mediterranean coast and it is the 6th most populated urban area in the European Union. This cosmopolitan city is recognized as Spain's industrial hub where international trade fairs and conferences are held. It is also one of the top destinations among Erasmus students and the main cruise ship harbour in Europe. Barcelona may be famous for its whimsical Gaudí-designed masterpieces and museums but, thanks to a long, sandy coastline and cheap flight tickets offered by airlines such as Ryanair and EasyJet, it has also developed a reputation for low-cost tourism that revolves almost entirely around the beach, booze and partying. Some argue that it simply reflects the young and fun atmosphere of the city and that not all the effects of this type of tourism are negative since it also brings economic benefits. In fact, the entire tourism industry generates 12% of Catalonia's GDP and low-cost tourism is part of this. On the other hand, according to local residents, the so-called ''drunken tourism'' tarnishes Barcelona's reputation and has negative social impacts. The number of reported incidents of noise, public urination and nudity in some spots of the city centre has sky-rocketed, leading locals to complain to the authorities about the illegal apartment rentals which they believe is pulling tourists into central parts of the city. The City Council is attempting to control tourism and is currently trying to ban illegal holiday rentals. It has already banned land-based bar crawls around the city, it outlawed nudity in the city centre a few years ago and wants to ensure the legality of alcohol-based boat trips as it does not have control over the city's waters.
Barcelona, an international tourist magnet
The Catalan capital is recognised as a cosmopolitan city due to its importance in arts, industry, business, education and tourism. Attracting different tourist profiles coming for diverse purposes, Barcelona is the world's 6th most powerful city brand, a ranking topped by Los Angeles, New York, London, Paris and Seoul, accordingto the Guardian Cities global brand survey. It has Europe's main port for cruise ships and one of the main harbours for goods transportation. Furthermore, Barcelona El Prat Airport is expected to offer the highest number of destinations within Europe, becoming the main airfield for short and medium-distance flights, handling about 35 million passengers per year. In addition, Barcelona is acknowledged to be Spain's industrial hub and a leading business centre, in which international trade fairs and conferences are held every year. According to the International Congress and Convention Association (ICCA), it is the top destination in number of delegates of international meetings (2008-2012) and the 5th city for international congresses (2012), hosting leading events such as the Mobile World Congress.
According to the City Council, the residents of Barcelona have seen the number of foreign visitors triple in the last 20 years. Barcelona trumpeted record-breaking tourism numbers for 2013 as it welcomed 7.571,766 tourists to the city, 1.77% more than the previous year. Today the Catalan capital is the 16th most visited city in the world and the 4th in Europe after London, Paris and Rome. 80% of visitors are foreigners, particularly from France, the UK, the US and Germany, which are recognized as the most important markets for the Catalan tourism industry.
Tourism rates keep rising and the upwards tendencies continue. However, while many of these visitors flock to climb the towers of Gaudi's Sagrada Familia or to visit the galleries of the Picasso Museum, the city has also felt the impact of low-cost airlines and tour operators, which attract a significant wave of foreigners whose only interest is to visit Barcelona's nightclubs, party and get drunk cheaply.
Booze culture in Barcelona: don't expect to sleep
It was just 9 a.m on a Thursday not long ago, but two Englishmen, Tom and Simon, from London were already enjoying the intense sun while slurping Estrella Galicia beer on Barceloneta beach and swaying to loud techno music beats coming out of their mobile phones. In fact, they had never stopped. "We started yesterday morning, when we came here to celebrate Tom's birthday and just sort of pushed on," said Simon, his face flushed (probably from sunburn and alcohol). "Well, at the end of the day, that's why we're here. Crazy and cheap fiesta.'' Asked about their cultural experience in Barcelona, they started laughing, ''Cultural tours haha, next time!'' Along with thousands of other foreigners. Summer is in full swing and that is when Barcelona becomes a second home for many international tourists who show up in the city to get a little taste of this hot spot of booze.
Those who have spent some time in Barcelona are probably aware of the Spanish night-time botellón culture, which brings young people together to socialize with their friends while drinking in a public space. Furthermore, Barcelona boasts all the bells and whistles of an unforgettable pre-wedding bachelor or bachelorette celebrations. It has turned into one of the top destinations for the much-cherished tradition involving a group of people dressing up and walking around the city getting drunk with a future bride or a groom before they the knot.
Boat parties are another tourist attraction popular in the Catalan capital. Stoke Travel company claims its boat parties are ''the wildest thing to do in Barcelona'' and offers three-hour cruises from just €35, which includes a free bar with unlimited beer, sangria and soft drinks. However, the Barcelona Government has described these alcohol-fuelled summer attractions as ''drunken tourism'' and according to Recasens, all means necessary will be carried out to control it. She remarked that not only the port and its authorities, but also the Spanish Government, have to join forces and work together in order to stop it. The company owner, Toby Paramor, said he was very surprised with the ''anti-festive attitude'' of people in the local government. ''Parties have been happening on boats ever since Noah and 'that' flood, and the concept of a social gathering on a boat really is not so outrageous that draconian regulations need to be applied,'' pointed out Paramor.
"I survived Erasmus in Barcelona!"
The Catalan capital has become one of the most popular choices for Erasmus exchange students in Europe with four Catalan universities ranked within the top 100 Erasmus student destinations, and the Universitat de Barcelona (UB) among top 10 higher education institutions for the number of Erasmus students it hosts.
''It's the best place I've ever been,'' said Jessy, a 22-year-old exchange student from Amsterdam. ''I don't think I've ever been as drunk as I was yesterday; alcohol is so cheap it's hard not to get drunk,'' she shouted with enthusiasm while taking another sip from her bucket of sangria. Countless young students under 25 come to Barcelona and live on their own. Full of energy, they experience physical distance and emotional autonomy from their parents and live free of any control. Independence, freedom, being able to come home at any hour you want, feeling an adult for the first time, is all part of the Erasmus experience. However, in establishment for more than 26 years with the aim of enriching students' academic, linguistic and cultural experiences, this EU programme is often seen as an extended holiday justifying drinking and partying habits. The array of Erasmus 'welcome parties', 'goodbye parties', 'pre-drinking parties', 'open bar parties' or 'beer-drinking competitions', which are promoted in social media sites across Europe, leads one to question whether the programme has actually developed its own drinking culture which could reshape the original priorities and values for which it was created.
Important tool in promoting economic growth
The so-called ''drunken tourism'' industry has its advantages, but it also has costs. Some argue that it simply reflects the energetic and fun atmosphere of the city and is an important tool for economic development, which provides local communities with a regular income.
The Barcelona Deputy Mayor for Economy, Business and Employment, Sònia Recasens, denies that there was any such thing as "drunken tourism" in Barcelona. ''It is absolutely false to suggest that there is drunken tourism in Barcelona, […] we don't have it''. She said there are some cases of antisocial behaviour, which also exist in many other countries with the same volume of visitors. Recasens stressed the importance of tourism as a key industry that generates 12% of Catalonia's GDP, bringing in nearly 14 billion euros in 2013. In addition, it generates 120,000 jobs in the Catalan capital, according to figures provided by the City Council. The average daily expenditure by foreign tourists in 2013 was 120.47 euros, 1.4% higher than in the previous year, and one of the highest in the world, according to Recasens.
The increasing number of tourists has local tour operators, souvenir shopkeepers, taxi drivers and bar owners rubbing their hands. ''Everyone wants to take home a souvenir from Barcelona, it might be a FC Barcelona t-shirt, a small key ring or a shot glass with views of the city, all tourists bring wealth,'' stated Mohammed, a Pakistani souvenir shopkeeper in Barceloneta. In turn, the owner of the popular bar for young people, the Ovella Negra, which is always full of foreigners, admitted that tourism has had a positive effect on bars' turnovers and was undoubtedly beneficial to the city. However, the Association of Barcelona's hotels, el Gremi d'Hotels de Barcelona preferred to remain neutral and did not give their point of view on this controversy.
According to Jens, a 29-year old economist from Copenhagen, who comes to Barcelona every year, local people should appreciate tourists as it is one of the major contributions to economic growth. ''I don't understand why locals are so angry with tourists when actually they earn money from foreigners, the constant flow of international visitors gives a much-needed income from selling souvenirs, food or alcohol,'' he pointed out. Asked about his personal experience in Barcelona, Jens said he ''loves this city'' and doesn't come here just for partying. He enjoys simply walking around his favorite neighborhood el Born or discovering local places and culture.
Losing neighbourhoods and welcoming ''touristhoods''?
However, the other side of the coin must also be examined, since the impacts of tourism are not all favourable and visitors do not always demonstrate a respectful attitude towards locals. In the last few years, criticisms of the social, cultural, and environmental effects of tourism have started to multiply and the number of complaints about public drunkenness, noise, urination, nudity and littering has soared. The President of the Barceloneta Neighbourhood Association, Oriol Casabella, said that Barceloneta, Ciutat Vella, Gracia, Poble Sec, and Eixample areas are the most affected by so-called ''drunken tourism.''
According to local residents, this kind of tourism tarnishes the city's reputation and reduces the tourism that is civilized and of high quality, because of the many degenerate holidaymakers it attracts to Barcelona. Fewer and fewer families decide to and discover the city due to its growing notoriety as the booze-and drug-fuelled party town where you can't just relax. Local residents live with the day-to-day realities of alcohol and drug-related disorders, such as under-age and public drinking, public urination and noise pollution. Besides, drunk and disoriented tourists often cause accidents. People are tired of being woken up at 4 a.m. by the screaming of tourists from one of the many visiting bachelor parties, or shocked by young foreigners drunkenly stumbling down the main streets while smoking weed and scantily dressed in bikinis and flip-flops. The night air is filled with deafening party tunes, flashes of cameras and a bad smell despite the hard work of the street-cleaning services. ''Every day residents have to deal with noise and dirtiness because of tourists shouting, unashamedly urinating or vomiting in this area,'' said Montserrat, a local woman living in the neighbourhood of the Ciutat Vella.
Moreover, striking transformations can be found in multiple quarters due to tourism. Many local fruit and vegetable stores and bakeries have been muscled out. In their place, hotels and souvenir shops catering to tourists sit side by side. It raises local prices and increases the cost of living. ''Everything around us is turning into commerce for tourists, it's not a place where you can live anymore,'' pointed out Ricardo from the Barceloneta quarter.
Locals declare ''war'' on drunken tourism and illegal apartments
Problems with antisocial behaviour of tourists led locals to complain bitterly to the authorities about the volume of illegal accommodation rentals springing up, which they claim was boosting visitors into residential areas and the central parts of the city.
To the horror of local residents, the Barceloneta neighbourhood is one of the areas most affected with this issue as it is the gateway to the beach and attracts innumerable foreigners. The old fishermen's and sailors' quarter has broken out with low cost tourism and has become the perfect housing market for foreigners. Local residents estimate there are about 800 illegal rooms and apartments being allowed in the small Barceloneta quarter with nearly 500 offered by Airbnb, the world leader in private housing rental, which Catalonia is considering banning. According to locals, this controversial online service poses a threat to affordable housing and gradually increases rent prices in this area.
There have been numerous reported incidents of noise and uncivil behaviour but the latest to hit the pages of Spanish and international newspapers and the tipping point was a trio of male Italian tourists running in and out of local Barceloneta stores naked. According to local residents, the nudists had strolled around the quarter for a few hours and the municipal police did not appear. Barceloneta's neighbourhood association and local residents said enough is enough and took to the streets to protest against ''drunken tourism,'' irregular tourist apartments and noise. Several nightly demonstrations have been held this summer in order to demand more control from municipal authorities over the tourism. According to the President of the Barceloneta Neighbourhood Association ''locals are fed up with the antisocial behaviour of tourists'' and all measures will be carried out in order to fight against the alcohol-fuelled tourism model that those visitors stir up here. Asked about the economic benefits that tourism brings to the Barceloneta district, Oriol Casabella pointed out that ''4 people here profit from tourism, no one else.''
''Barceloneta has changed dramatically over the last years,'' pointed out the 57-year-old local resident Maria Blanco, one of the protesters. ''I have been renting the same flat with my husband for 15 years but one day, unexpectedly, the owner asked us to leave as she preferred to rent it for tourists who come for a few nights and pay much more,'' explained Blanco armed with a home-made sign. Numerous local residents undergo the same problem. Apartments that had been rented to locals are now being rented to tourists. At that point, the supply of affordable housing overall is decreasing and the cost of residential units consequently increases. ''It is impossible to find a flat in Barceloneta, the prices are getting higher and the owners simply will not agree to rent it for locals as we bring less revenue,'' remarked Mónica, another local who had to leave the neighbourhood and look for a flat in another area. ''We want illegal holiday apartments to be banned once and for all, it would definitely solve the problem,'' stated Casabella and the protesters.
Attempts to stamp out booze tourism
The local government seeks to protect the city's reputation as a cultural destination fit for all the family and business people. Actions have been taken in order to control tourism and prevent troubles at the hands of those holidaymakers who do not demonstrate respect towards locals.
In the last few weeks, the Barcelona City Council issued closing warrants against a large number of illegal holiday apartments in Barceloneta and other illegal flats are due to experience the same fate. Apartment checks are being carried out randomly by town hall officials, which do not even necessitate a prior complaint from residents. Recasens said the Barcelona City Council has been trying to regulate holiday apartment rentals for almost two years since the new government had been formed. 4,050 inspections were completed with 1,952 open cases between 2007 and early September 2014, and closing warrants against 48 illegal holiday apartments have been issued from 2011 to early September 2014. The issuing of holiday rental licences was suspended in order to improve the regulation of the holiday rentals sector.''
Recasens said she didn't want to link the so-called ''drunken tourism'' with tourist apartments. She remarked that ''there are people who rent apartments in a legal and professional way and the issue of antisocial behaviour is created by those engaged in illegal rental activity. Recasens pointed out that they would take forceful action and would not permit this kind of thing in Barcelona. The City Council will regulate tourist apartments, penalize and issue fines, and will ask for more inspectors and local police. 'The Spanish Government "has to allow us to hire more local police and to permit regulatory changes allowing the City Council to act,'' emphasised Recasens.
Furthermore, she explained that in areas of a high concentration of tourism, such as the Sagrada Familia or Parc Güell, regulations have already been enforced in order to limit the number of tourists. Besides, special district programmes have been created to be able to see the tourism potential of every area.
Finally, region-wide bans were set up in order to curb the issue of booze culture. Bars and nightclubs are no longer able to offer two-for-one drinks, ladies' nights, happy hours or any other promotions encouraging clients to drink more for less. Besides, in the middle of August, Barcelona City Council ordered 49 cannabis clubs to shut down due to issues in their functioning and the problems of coexistence with neighbours, reported after 145 inspections. Booze-fuelled bar crawls around Barcelona were also banned. In addition, 14.512 fines for drinking in public were issued in 2013 and 74.75% were paid, reported Recasens.
At the end of the day, we are all tourists at some point and everyone recognizes the fact that tourism industry is a source of wealth. However, left out of control it can wreak havoc. The measures have to be implemented in order to distribute the wealth tourists generate to all of Barcelona's districts and to find the balance between tourist activities and community life. In addition, the stereotypical reputation of the Catalan capital should be reshaped. After all, Barcelona is not just about football, beaches and cheap drinks.