Carme Ruscalleda's Michelin-starred Sant Pau restaurant closes
Female chef with most stars in the world shuts down famous eatery after 30 years to "reorient" her professional life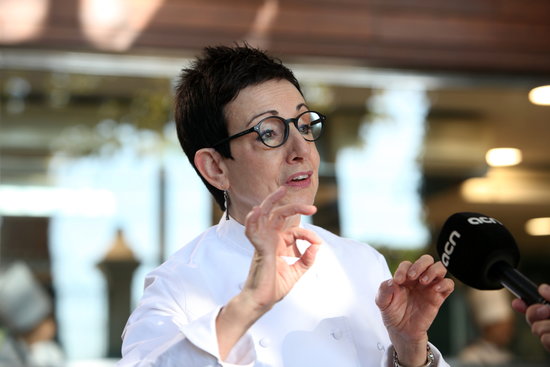 Top Catalan chefs, from Ferran Adrià to Joan Roca, have dominated the world of cuisine in recent years, with their restaurants earning many prestigious Michelin stars. Yet, the Sant Pau restaurant of the female chef with the most stars in the world, Carme Ruscalleda, closes on Saturday after 30 years.
Talking to the Catalan News Agency (ACN), Ruscalleda said her famous restaurant in the seaside town of Sant Pol de Mar, in the Maresme area north of Barcelona, is "fully booked and has a waiting list" for its last night, and that her decision to close the eatery, which has three Michelin stars, is so she can "reorient" her professional life.
Ruscalleda also stressed that her decision "is not a retirement," and that her Sant Pau restaurant in Tokyo and her Moments Restaurant in Barcelona's Mandarín Oriental hotel will remain open. Both restaurants have two Michelin stars each, giving Ruscalleda a total of seven stars, more than any other female chef.
"We have to bring this story to an end"
Ruscalleda said she will now focus on other projects alongside her partner, Toni Balam. "We have spent 50 years working together and before we lose our enthusiasm and strength, we have to bring this story to an end and keep our excitement so as to continue," she said.
Yet, the premises that currently house the famous restaurant will remain in the family, as Ruscalleda's daughter and Balam will take over the site and turn into it a different type of business. Yet from October 28, Sant Pol de Mar's Sant Pau restaurant will be history.
Like Ferran Adrià after he closed his world famous elBulli restaurant in 2011, Ruscalleda will devote some of her time to food research, in the Cuina Estudi centre she will open in Sant Pol de Mar. While the chef says she will not stray too far from the kitchen in her future projects, she has no plans to open another restaurant.