WHO warns Omicron doubles cases every two to three days as transmissions soar in Catalonia
Catalonia has recorded over 10k new cases on a daily basis on the last four days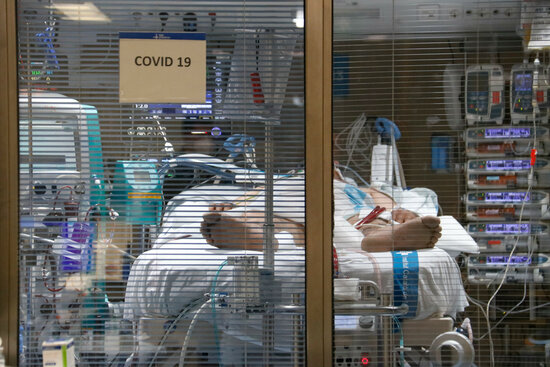 The Covid-19 Omicron variant is more contagious than other strains, said the World Health Organization on December 24. WHO announced that Omicron doubles its cases every two to three days, after analyzing data from different countries. While, in Catalonia, authorities have recorded over 10k new Covid-19 cases on a daily basis on the last four days.
WHO also highlighted that despite more Covid-19 cases, the Omicron variant has a lower hospitalization risk as numbers from the United Kingdom, Denmark, and South Africa suggest, and data gathered by Catalan News confirms a similar trend in Catalonia.
The reason for the decrease remains unknown to WHO scientists as they cannot discard that the lower risk is because of vaccination, previous immunization, or that the variant is weaker compared to other strains.
Covid-19 in Catalonia
As of December 23, 2021, official figures, released daily on this website, state there have been 1,174,484 confirmed Covid-19 cases (PCR tests and others including antibody tests).
The vaccine rollout began in Catalonia on December 27, 2020. As of December 23, 2021, 6,250,177 residents have been given the first dose of the vaccine, 78.9% of the total population. Out of those, 5,423,547 have also been administered a second dose (68.5% of the total population). 6,051,828 residents are considered to be fully immunized (76.1%).
Under 65s who have already had the virus are only required to have the first dose, and others have received a single-dose jab. Therefore, the % of two doses administered and % fully immunized do not match.
Booster shots are being given to people between 50 and 59, for those between 60 and 69, those 70 and over, immunocompromised people, care home residents, and anyone who received the Janssen vaccine. On December 16, authorities also approved them for residents in their 50s and those who had AstraZeneca at least three months ago, regardless of their age. People in their forties will also be able to book their appointments shortly.
As of December 23, 2021, Catalonia has administered 1,686,796 third doses (21.5%).