Transmission rate falls below 1 for first time in a month
R value is 0.96 but number of new infections and patients in ICUs remains high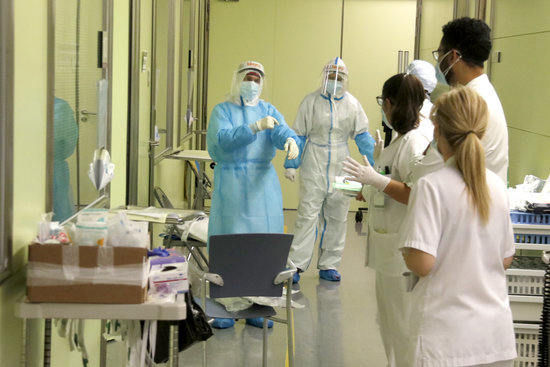 The coronavirus transmission rate has fallen below 1 in Catalonia for the first time in a month, according to the latest figures released by the health department on Wednesday.
The rate, also known as the R value or reproduction number, is currently 0.96, meaning that, on average, every 100 people infected with the virus pass it on to another 96.
Acting president Pere Aragonès acknowledged the positive development but emphasized that it was only the first day that the transmission rate had fallen below 1, and warned that the R value formed only one piece of the overall jigsaw.
Speaking in parliament, he said the government has also set targets of bringing the number of daily infections below 1,000 – they are currently at 3 or 4 times that level – and reducing the number of Covid-19 patients in ICUs to less than 300 – they are currently just below 500.
"If we achieve these indicators, we will enter a scenario of stability that will allow us to begin to recover our social and economic life, and the social and collective life that we have sacrificed," he said.
Faced with rising cases, the government moved several times to introduce progressively stricter measures across Catalonia during October, most recently closing its land borders and introducing weekend travel restrictions.
On Monday, health secretary general, Marc Ramentol indicated that the closure of bars and restaurants was beginning to have an effect on transmission rates but warned: "now is definitely not the moment for optimism."
R value and outbreak risk
The R value of 0.96 on November 4 is the lowest since October 3. During August and September the transmission rate fluctuated around 1, before rising sharply at the end of September. It reached a recent peak of 1.53 on October 24 before falling to the current level.
When it is below 1, the number of infections is decreasing; when it is above 1, they are increasing.
The so-called outbreak risk, while remaining very high, continues its recent downward trend, falling to 747 on the iEPG index on Wednesday from a peak of 904 the previous Friday.
The iEPG index is calculated by multiplying the average spread of the virus over the past seven days by the cumulative incidence over the past two weeks – it is considered to be low under 30 points, moderate at 70, high at 100 and very high at 200.