Sharp rise in pandemic deaths seen in August
Despite data suggesting latest wave is easing, severity of health crisis highlighted by summer figures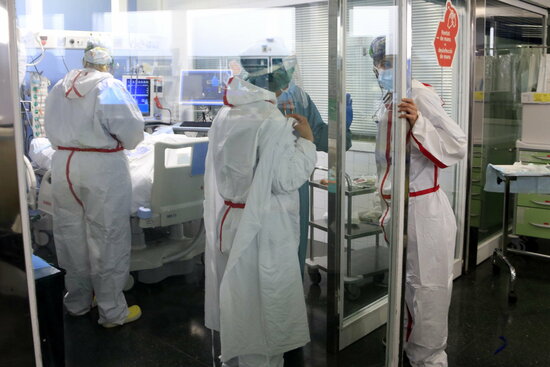 August saw the highest number of deaths in Catalonia due to Covid-19 in a single month since last winter.
In total, 779 people lost their lives due to the coronavirus crisis in the month of August, a significant jump on the 399 deaths seen in July.
These figures are taken from the Catalan health department's daily pandemic updates provided on this website.
In fact, August's tally is just below the total number of deaths in the previous three months combined - 794.
February saw 1,463 people pass away from Covid-19 related complications, while 2,136 lost their lives due to the pandemic in January.
The rise in fatalities highlights the severity of the fifth wave of the pandemic, which began around early July, despite the fact that much of the population is already vaccinated.
By August 1, a majority of the Catalan residents were already fully immunized, a total of 57.8% of the population, while by the end of the month that figure had risen to 66.5%.
The month began with 64.6% of people having at least one dose of a jab and finished with 71.9% being at least partially protected from Covid-19.
The beginning of August was also the fifth wave's peak for the number of hospitalizations when 2,292 people required medical care for the coronavirus. In early September, that figure fell below 1,000 for the first time in two months. The latest update provided by health authorities show 938 patients hospitalized with the virus.
As for the number of people in ICUs, the trend follows a similar pattern. A peak of 598 was seen on August 7, while that number now stands at 316 according to the latest update provided on September 7.
The latest wave of the pandemic took off shortly after a major easing of restrictions in Catalonia, coinciding with the arrival of summer and the tourism season.
A curfew was brought into effect to help control the health crisis but was struck down by courts on August 27.
The latest coronavirus restrictions say that social gatherings cannot be more than 10 people, face masks are compulsory in indoor public spaces, and authorities encourage continuing to work from home.