Under 1,000 Covid-related hospitalizations for first time in 2 months
Outbreak risk indicator set to fall from 'very high' to 'high' in coming days as one more week of restrictions comes into force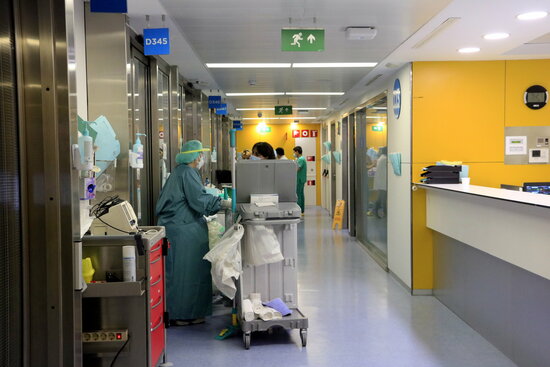 Those needing hospitalization after getting Covid-19 are now under 1,000 for the first time in almost two months.
According to the latest daily official figures, 986 people are in hospital beds, a figure significantly lower than the peak of the fifth wave, at 2,292 on August 1. The last time fewer than a thousand patients were needing to stay in a health center dates back to July 11.
As for those in intensive care, the trend is similar: as of September 2, 336 people were in ICUs, down from 598 on August 7. This is the lowest figure since July 18, when 307 people were in intensive care.
The outbreak risk indicator is set to fall from 'very high' to 'high' in the coming days.
July 9 marked an all-time high for this variable at 1,828, but it has been decreasing ever since, falling to below 200 and approaching 100, at 137 as of September 2.
Outbreak risk of above 100 is considered to be 'high' risk and authorities deem anything above 200 'very high' risk. It is calculated using an iEPG index, which is found by multiplying the average spread of the virus over the past seven days by the cumulative incidence over the past two weeks.
Likewise, the transmission rate continues below 1. 1 or over concerns authorities. Indeed, as of August 29, the number of people who get the virus per every positive case is 0.78.
Sharp decrease in daily transmissions
After an all-time high number of new transmissions at the beginning of summer, with over 8,000 at the peak of the fifth wave, this indicator has also gone down, as roughly 1,000 new cases are now declared per day on average.
This is a similar progression to cases per 100,000 inhabitants over the last 14 days, peaking at 1,245 in July, and sharply declining to 186.26 on September 2.
Catalonia is approaching a million Covid-19 cases since the beginning of the pandemic – 966,409 as of August 29 – out of a population of 7.7 million.
Restrictions extended one more week
On Friday, the same Covid restrictions applying in Catalonia began one more week of extension, after the High Court greenlighted on Thursday the government's request to extend the 10-person limit in gatherings.
Magistrates also approved having the 70% capacity limit for religious ceremonies in place for another week.
The rest of the measures continue, including ceasing all public activities at 12.30 am, so nightlife will continue shut.
Tests for close contacts from Monday
Close contacts of Covid-19 patients will once again be required to get tested for the virus from Monday, including those who are fully vaccinated or schoolchildren, as announced by health authorities on Friday.
Compulsory tests for close contacts were dropped during the fifth wave of the pandemic last July, when infection rates skyrocketed to record-shattering levels and primary care centers were overwhelmed by the influx of Covid-19 patients.