Barcelona hosts the most international Smart City conference to date: 400 cities from 5 continents
Between the 18th and the 20th of November, Barcelona is hosting the 4th edition of the Smart City Expo World Congress. This year it will be the most international edition so far, with 400 cities from 5 continents represented, a 33% increase. Participating cities include Berlin, Munich, Boston, Chicago, New York and San Francisco, who are present at the Fira de Barcelona exhibition centre. The goal of reaching 9,000 visitors may be achieved, as nearly 700 people attended the opening ceremony on Monday. Companies are presenting technological applications for improving the sustainability, mobility and quality of life of everyday citizens. Applications being presented this year include drones for cities, technology to monitor free parking for busy commuters, and applications to assess air quality for the physically active and for choosing the best place to open a business.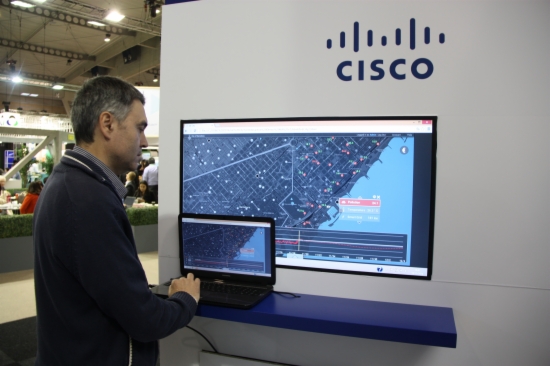 Barcelona (ACN).- From the 18th until the 20th of November, Barcelona is hosting the Smart City Expo World Congress at the Fira de Barcelona exhibition centre. Now in its 4th edition, it will be its most international to date, with 400 cities participating from 5 continents. Altogether there is a 50% increase in the number of exhibitors, and a 33% rise in that of cities represented. These include: Berlin and Munich in Germany, Boston, Chicago, New York and San Francisco from the USA, Copenhagen (Denmark), Dublin (Ireland), Glasgow and London (UK), Melbourne (Australia), Milan and Rome (Italy), Ahmedabab and New Delhi (India), Paris (France) and Toronto (Canada). The goal of 9,000 visitors is likely to be easily reached, as nearly 700 people came to the opening ceremony. The trade fair opened with speeches from the Indian Minister of Urban Development, Venkaiaiha Naidu; the Mayor of Medellín, Anibal Gabiría, and the Deputy Mayor of Barcelona, Antoni Vives. Technological companies and start-ups are presenting applications for greater sustainability and reducing CO2 emissions, and for improving the quality of life of citizens in matters of healthcare and better services in terms of urban mobility. This year, highlights include drones for cities to assess accidents towards more efficient medical care, technology to find free parking in advance, to enable commuters to reduce traffic and pollution, an application to assess air quality for people wanting the best place for exercise, and an application for entrepreneurs to choose the best place to open a business. The Deputy Mayor of Barcelona highlighted the economic boost these applications bring to the city. In fact, the Catalan capital has prioritised smart city activities and innovation in the last few years and it is among the world leaders in this area.
Drones for cities
One of the highlights of this year's Smart City Expo World Congress is the drone designed to oversee the campus of EsadeCreapolis in Barcelona. It will be named Dea Drones after the company signed a contract with industrial partner Octo Cam Vision.
Dea Drones has presented a drone whose function is to support the emergency services of a city. The drones are controlled remotely by a control centre, and the idea is that they will shorten the response time to an accident and ensure more efficient medical care.
The idea is that through installing a team of drones on the roof of buildings or having them fly over the city in times of heavy traffic, it can access an accident within maximum three minutes, 'visualize' the accident, and through the image, decide what care or equipment the victim(s) need via ambulance.
Bernardo Sa Pereira, the Sales Director of Octo Cam Vision, explained to the ACN that a city such a Barcelona would require six drones flying over rush hour traffic, and two in times of low traffic. The cost of this investment is below that of an ambulance, although he conceded that the technology is still in the manufacturing process.
Monitoring free parking
Antoni Lívia is the Business Manager of Eastern district of the company Abertis Telecom. This company is presenting to the Smart Congress, their technology to monitor parking zones, including blue and green areas, motorbike and cargo zones, taxi ranks and disabled spaces.
This technology is part of a pilot programme that was launched in the district of Les Corts in Barcelona, in an interior space closed off by the streets Gran Via Carles III, the Travessera de les Corts Boulevard and the Sàrria Avenue. The main Diagonal Avenue is closed off from this space.
With an investment of €140,000 motion detectors with a six year lifetime have been installed, which inform citizens of available parking spaces in an area, through sending a signal to a central service.
Lívia says that studies have shown this technology can reduce traffic congestion, and reduce the time in which drivers spend searching for parking between 20 and 40%. ''Less traffic, less noise, less pollution and a better quality of life for citizens'', according to the Director of Abertis Telecom.
Running in greener and cleaner circuits
For runners and sportsmen, the application presented by Cisco Systems will be very interesting. The CEO of the technology company, Jesús Galindo, explains that this is one of their applications that interpret the data sent by different sensors that can be deployed throughout a city.
Regarding the environmental sensors, Cisco will use this mobile application to inform a jogger what his best route, be it 8, 10, or 15 kilometres, would be, ''based on contamination there at the time'' said Galindo.
The goal is to merge Cisco's information with that of a city council. If knowledge of contamination is found in time, the city can respond by offering free bicycles, reducing the prices of public transport, and encouraging carpooling, explained Galindo, keeping citizens up-to-date and informed on their best alternatives.
Choosing the best place for business
David Nogué, CEO and founder of the company Eixos, is participating in this year's Congress at the Catalan Government's stand, which houses a total of 18 companies. His company is presenting a product useful for entrepreneurs and institutions giving advice to start-ups.
According to Nogué, it is as important to know where to install your business, as where ''not to install'' it. Through the information that Eixos will make available, entrepreneurs can find out where the best place is to start a new company, or the businesses needed in a particular area.
''Entrepreneurs are usually people who have made the most of unemployment benefits, and gamble their future on a card'' and therefore have no margin for error, making their choice of place ''essential'' explains Nogué.
A new economy for the city
Antoni Vives, the Deputy Mayor of Barcelona, participated in the opening ceremony of the fourth edition of the Smart City Expo World Congress. He believes that in recent years the applications and technologies dedicated to improving the quality of life in cites have gained them a place in the international business community, and that it is up to the Catalan capital charged with this economic niche to incorporate them into its businesses.