Joan Laporta announces candidacy for FC Barcelona presidency
Former president aims to win back control after last leading the club in 2010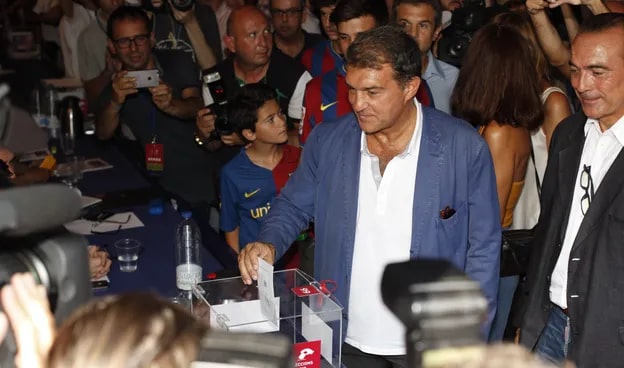 Joan Laporta, the former FC Barcelona president from 2003-2010, has announced his intention to run for the highest office at the club in the January elections.
In his first stint as leader of Barça, the club claimed four La Liga titles, two Champions Leagues, and three Copa del Rey trophies. Laporta is also the president that installed Pep Guardiola as manager in 2008 who would go on to build arguably one of the best teams the history of the sport had ever seen.
He is considered one of the early favourites to win the position given his track record of success and the will among Barça fans to change course after years under Sandro Rosell and Josep Maria Bartomeu.
Laporta and his campaign are seen as a team of leaders who understand the feelings of FC Barcelona fans more than most, and in his press conference formally announcing his candidature, he stated that he wants to "bring happiness back" to the club and supporters.
"It's not a simple election promise," he said. "It's an ethical, civic, moral, social and united commitment."
He also spoke about captain Lionel Messi, who publicly stated that he wanted to leave the club last summer. Laporta denied having spoken with the Argentine star, but stories circulated in Catalan and Spanish media over the weekend that Messi let Laporta know that his desire is to remain for further seasons at Camp Nou. Currently, the six-time Balon d'Or winner could leave in the summer for free, and as such contract renewal negotiations will be one of the biggest challenges for whoever the next president is.
Also expected to be among the frontrunners for the election will be Victor Font. The businessman is understood to be tied to former Barça captain Xavi Hernández, who is now managing in Qatar, and could be convinced to return to Barcelona as coach under a Font presidency.
Font has also been one of the most vocal critics of the previous Bartomeu tenure over the past couple of years, in particular highlighting the lack of youth players who have been given a chance to break into the first team of the Catalan club, such as Marc Cucurella, Riqui Puig, and Eric García.
Elections were announced after former president Josep Maria Bartomeu stood down after a motion of no confidence in his leadership was just days away from leading to a referendum that would have seen him ousted from the club.