Home workouts and staying motivated: challenges of lockdown for top level athletes
Olympic and Paralympic hopefuls confined at home look for space to train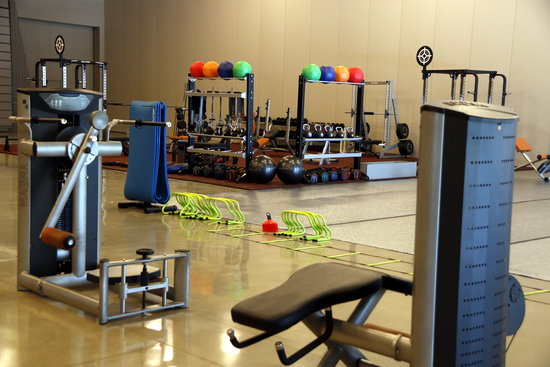 The Tokyo 2020 Olympic Games have been pushed back a year due to the ongoing public health crisis, putting very different challenges in front of athletes: modifying their training regime to accommodate a further year of waiting before arriving in Japan in peak physical condition.
Around this time of year, Pre-Olympic tournaments and qualifiers should be taking place, making the dreams of athletes who have trained their whole lives to compete with the world's best.
Athletes from Catalonia often train in the Sant Cugat High Performance Center, making use of the coahces and facilities available to them there. Instead, gymnasts, swimmers, and table tennis players alike are stuck inside their homes, forced to make do with whatever equipment and training gear they own and can fit in their houses.
Video calls and psychological impact
Txell Mas, captain of Spain's women's Olympic synchronized swimming team, has a new training regime limited by her confined setting, but one that still puts her through her paces.
"We still do a lot of exercise, I'm really tired at the end of the day." Unable to work with teammates, crucial in artistic swimming, she says that occasionally she practices climbs, lifts, and other synchronized moves with family members.
Frequent contact is made with teammates, and this helps not only with keeping focussed on their goal of qualifying for the Olympic Games, but also to maintain motivation during the period of lockdown. "I speak with my team a lot, we have calls three or four times a day. My routine hasn't stopped, I haven't had a moment to think, 'what do I do?'"
"Each one of us in the team has bad days, but we all try to help each other so that the day isn't as bad," Mas says.
Jordi Morales, a class 7 table tennis player who is preparing for his 6th Paralympic Games in Tokyo, agrees that "obviously" the confinement has a big psychological impact. He says that "a lot of days pass and you feel like you haven't done anything."
Morales "wakes up some days with little excitement to do things," and often doesn't even realise what day it is, as they all have "the same feeling." He's thankful for Netflix, and spends a lot of his time reading.
"I'm a sportsperson that loves the process more than the results," says Olympic gymnast Rubén López. "It's true there are days that I don't have the same excitement to train, but I haven't lost motivation" in spite of the lengthy home confinement.
"I'm good, I'm happy enough with what I've got," he says, although he admits he is prone to getting "bored" more often by having to train alone, and is excited to get back to some semblance of normality.
Home training equipment
Some athletes, such as Olympic gold medalist Jan Frodeno, who raised over €220,000 for health services in Germany and Catalonia by doing an Ironman challenge at home, have equipment such as a counter current swimming pool at home to train with, but Txell Mas isn't as fortunate.
The most relevant apparatus she has to work with is a yoga stool, which she uses to practice balance and movements upside down, "but it's not the same as being in the water, as that pushes your body different ways," she explains. "We're adapting everything to outside the water."
Meanwhile, Jordi Morales hasn't been able to train properly since the state of alarm was declared. "On a technical level, the level I need to train at for table tennis," he explained, "I haven't been able to train on a table in six weeks."
The Spanish Paralympic Committee contacted Morales at the beginning of the state of alarm and offered to send him training equipment to use at home, and with this he has a static bike, but overall his training is limited to only physical.
Rubén López on the other hand has the "luxury" to train a lot, as he is staying in his parents' house for the lockdown which has a gym in it. While the facility isn't totally complete in order to prepare for competitive gymnastics, it does have some relevant equipment such as an Air Track and gymnastic rings that he can use.
Overall, he says his training regime hasn't been affected too much by the extraordinary circumstances, as he is "very passionate about sport," and therefore it's "very difficult for [him] to lose motivation to train."
Extra spare time: Video analysis and rehabilitation
The athletes are putting their newly found spare time to use in any way they can. Txell Mas is dedicating more hours to searching the internet for interesting and unique moves, jumps, and anything to make her and her swimming team's performance more spectacular.
"Now we have a lot of time to look for videos of lifts and really original moves to do something different. Once we can go back to the water we can try them and give them a bit more time," she says.
Jordi Morales, meanwhile, declares he's an "optimist," and explains he wants to "take advantage" of "difficult situations" and turn them into opportunities, using this period confinement to come back as the best player he can be.
To achieve this, he's concentrating a lot on video analysis and self-assessment, given he has much more time to dedicate to that style of improvement.
Rubén López has another challenge first and foremost in his mind, as he doesn't believe that he will be able to compete again this year due to an injury he's carrying. Instead, his focus is entirely on getting fit again to the level he can compete.
He says he's "been training for six hours a day" since he was eight years old, and says this level of training for such a long time takes its toll on his body. "I'm concentrating on planning out the year [before the Olympics], not over-training, so I can arrive at the Games in good condition."
All in all, the postponement of the Games has come at a good time for López personally, despite the obviously terrible surrounding circumstances. The extra year to prepare could allow him to arrive at Tokyo in better shape than he originally expected.
Having the extra year to wait isn't any deterrent to Txell Mas either, who has her sights firmly focused on Tokyo 2021. "[Not qualifying for Rio 2016] was very tough," she says. "It's very much in my mind that I want to reach an Olympic Games."