What's next for the Open Arms and the rescued migrants?
After disembarking in Lampedusa, the 160 castaways will be transferred to five European countries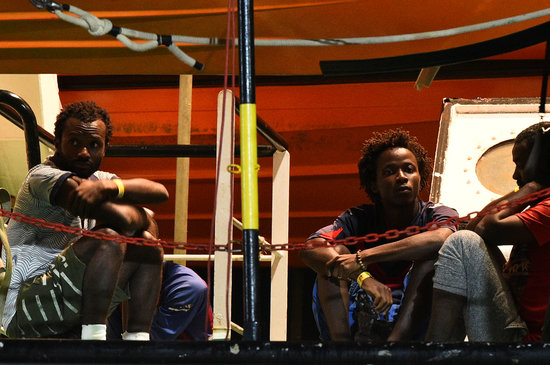 After 19 days stranded in the Mediterranean with over 160 migrants on board, the Open Arms rescue ship docked in Lampedusa in the early hours of Wednesday following orders from Italian prosecutors. But with the emergency cleared, many question marks remain.
What will happen to the rescued migrants?
The European Commission will coordinate the relocation of the rescued migrants to five EU member states: Spain, Portugal, France, Germany, and Luxembourg. According to the Spanish vice president Carmen Calvo, 15 people will be welcomed in Spain, and will be transported by the army ship originally sent to rescue all the migrants after the Italian's government repeated refusal to let them dock. As of Thursday, all castaways remain under the custody of Italian authorities.
What will happen to the rescue ship?
The public prosecutor in the Agrigento region, Luigi Patronaggio, launched an investigation to assess whether Italian officials —namely the far-right interior minister Matteo Salvini— breached its official duty by refusing to let the Open Arms dock despite the poor health conditions of the people on board. The rescue ship will be presented as evidence in the lawsuit, and therefore will be temporarily seized.
Could the NGO face charges for rescuing people?
Vice president Calvo confirmed that the Catalan NGO could be fined up to 901,000 euros for rescuing migrants in the Mediterranean. "They're not authorized to do it," she said in an interview. Earlier in the year, the Open Arms ship spent over 100 days stranded in the port of Barcelona, awaiting permission to resume sea-rescue operations. When it finally set sail, it was only authorized to deliver humanitarian aid.
If the NGO is finally taken to court, the judge should decide if the ship found the castaways by chance (and therefore had the obligation to help them) or if it was actively carrying out sea-rescue operations.