Spain threatens migrant rescue NGO with €900k fine
Proactiva Open Arms risks huge penalties if it defies ban on saving refugees in Mediterranean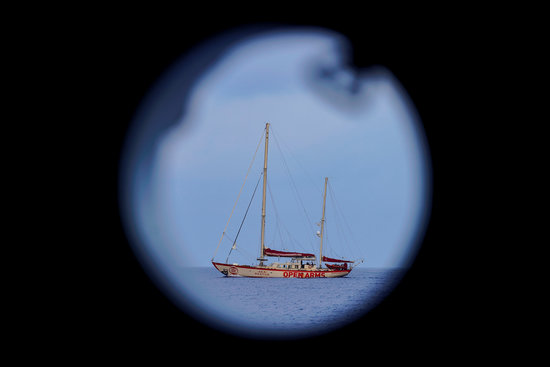 The Spanish authorities have threatened Catalan NGO, Proactiva Open Arms, with fines between 300,000 and to 900,000 euros for defying orders confining its migrant rescue ship to port in order to save refugees stranded in the Mediterranean.
In a letter published by the eldiario.es, the head of Spain's Merhcant Marine, Benito Núñez Quintanilla, warns the NGO that it "must not carry out search and rescue operations" without permission from the authorities.
According to the digital publication, the letter is one of three sent to Proactiva Open Arms, warning the group that the authorities have the power to order the ship "to return to a Spanish port in order to freeze its operations should it persist" in rescuing migrants.
"I'd rather be in prison than complicit"
On Sunday, Open Arms announced that its rescue ship had saved a boat carrying 40 people, including four babies and three pregnant women. The wooden boat had come from Libya, said the NGO, with those on board severely dehydrated after three days at sea.
This came after Open Arms decided at the end of June to defy the ban on rescue missions and set sail from Barcelona's port. The NGO's founder, Òscar Camps, said on Twitter at the time: "We're pulling up anchors and leaving. I'd rather be in prison than complicit."
🎥 At the start of this year, the Spanish government refused permission for @openarms_fund to set sail from #Barcelona – and more than three months later, the boat is still stuck without being allowed to begin a new search and rescue mission in Libyan waters. pic.twitter.com/Y2zdHGhwLt

— Catalan News (@catalannews) 15 d'abril de 2019
Earlier in the year, the Open Arms vessel was blockaded in Barcelona's port for over 100 days before it was eventually authorized to carry humanitarian aid to the eastern Mediterranean, but the ban on migrant rescue operations was never lifted.
Senior Open Arms member, Ricardo Gatti, was critical of the message sent by the Spanish authorities: "Do not dare touch the migration issue. It is a conflict that scares them a lot because they don't know how to deal with it," he said.
Protest against "criminalization" of NGOs
On Tuesday, the organization mounted a protest on the River Rhine in Brussels calling for "an end to the criminalization" of migrant rescue NGOs and for the European Union to implement "urgent" measures to help rescue efforts in the Mediterranean.
The protest came only days after the captain of the Sea-Watch 3 rescue ship, Carola Rackete, was detained by the Italian authorities for forcing her way into Lampedusa's port with rescued migrants on board. She is now facing a potential 10 years in jail.
According to the International Organization for Migration (IOM), the Mediterranean Sea has now become the world's deadliest border, with 597 deaths registered so far this year, between January 1 and June 28.