Rapper's imprisonment looms as removed anti-monarchy murals prompt Barcelona's apologies
Around 200 Spanish artists including Joan Manuel Serrat, Pedro Almodóvar and Javier Bardem support convicted artist Pablo Hasél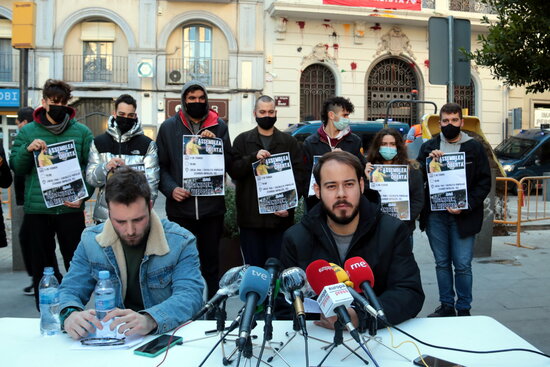 Catalan rapper Pablo Hasél, convicted to two years and nine months behind bars for two separate cases relating to his songs and tweets, must enter prison voluntarily by this Friday to comply with Spain's judiciary sentence.
With this deadline looming, around 200 Catalan and Spanish artists gave their support to Hasél in a manifesto dubbed 'Without freedom of speech there is no democracy.'
The likes of Catalan singer Joan Manuel Serrat, Spanish film director Pedro Almodóvar and actors Javier Bardem, Alba Flores and Aitana Sánchez Gijón signed the document which sides against opening judicial cases on artists, Twitter users, journalists and the culture sector trying to "exercise freedom of speech."
The manifesto reads that Spain "has become the country that has reprimanded most artists for the content of their songs."
According to them, Spain "is levelling to countries such as Morocco and Turkey."
"If we let Pablo be jailed, tomorrow they can come after any of us, and they will go on until they silence any dissident voice."
The document calls for Hasél's freedom, as well as a reform of the criminal code so that the freedom of speech, and artistic and ideological freedoms are better protected.
The judiciary deemed the rapper's lyrics a "glorification of terrorism," and slander to the crown and Spanish law enforcement.
Not punishing 'verbal excesses' with prison
On Monday evening the Spanish government said that it will propose not punishing "verbal excesses" in arts with prison convictions.
The executive suggested that only behaviours that can "clearly" lead to risk against public order or spark violence would lead to a prosecution, but never imprisonment.
Controversial murals against former king erased
Also on Monday, the Barcelona local government was under fire after graffiti and murals painted the day prior in Jardins de les Tres Xemeneies had been removed by the local police.
One of the works condemned the imprisonment of Hasél and called Spain's former king, Juan Carlos, a "thief", "elephant murderer" and "putative son of a dictator," referring to Francisco Franco, who appointed him.
Facing criticism for the removal of the murals, the local government – led by Republican Ada Colau's Barcelona en Comú party – said that they did not give "any political instruction."
A local councillor, Marc Serra, admitted that eliminating the paintings was a "mistake" and confirmed that the works were drawn in a place allowed to do so.