Convicted rapper barricades himself in Lleida university: 'They'll have to blow it up to put me in prison'
Pablo Hasél was sentenced for speaking out against Spanish monarchy and glorifying terrorism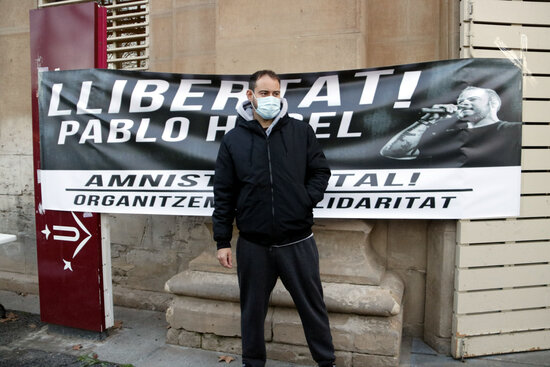 The rapper Pablo Hasél has barricaded himself inside the University of Lleida, in Western Catalonia, after the expiration of the 10-day window he was granted to turn himself in.
"I'm locked inside the University of Lleida among many supporters, they'll have to blow it up to detain me and put me in prison," he said in a tweet on Monday morning.
The National Court sentenced Hasél to two years and nine months behind bars for two separate cases relating to his songs and tweets. The judiciary deemed them to be "glorification of terrorism" and slander to the crown and Spanish law enforcement.
In his lyrics, he called for the return of armed groups such as the Basque Country's ETA and Catalonia's Terra Lliure. His lawyers have always argued his songs should be protected under freedom of speech because they are only opinions.
On January 28 the National Court gave him ten days to enter prison, after the Spanish Supreme Court confirmed the latest verdict and the Constitutional Court dismissed an appeal for the latest case. Yet, Hasél made clear straight away that he had no intention to surrender himself voluntarily
Estoy encerrado junto a bastantes solidarios en la Universitat de Lleida, tendrán que reventarla para detenerme y encarcelarme. Es en el Rectorat de Rambla d'Aragó por si alguien de por aquí quiere echar una mano.https://t.co/QG34jYPSU3

— Pablo Hasel (@PabloHasel) February 15, 2021