Protests across Catalonia against imprisonment of Pablo Hasél
At least 15 people arrested in night of tension after rapper was imprisoned for "glorification of terrorism" and "slander against the crown" in lyrics and tweets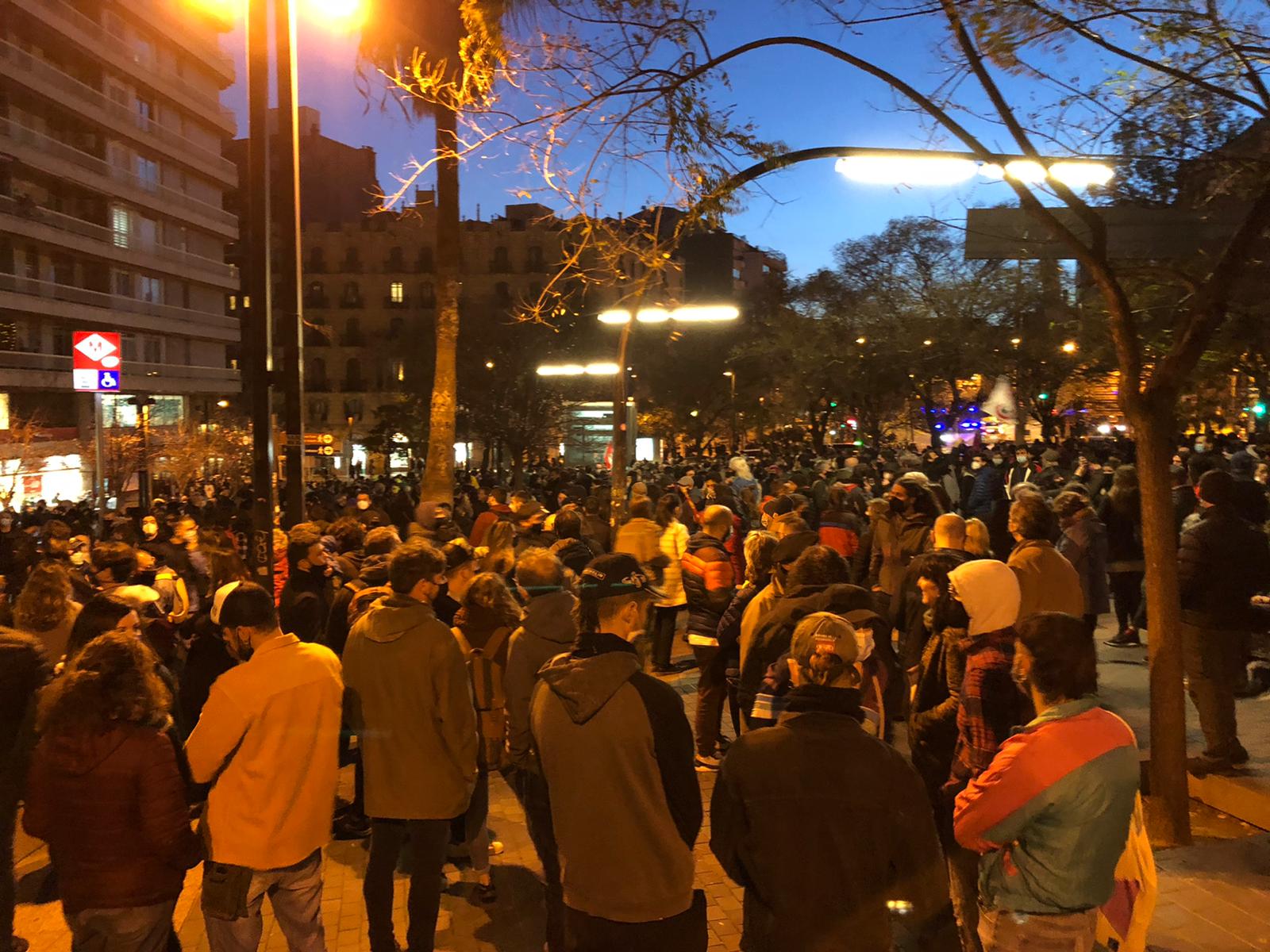 Various protests across Catalonia were held on Tuesday evening against the imprisonment of rapper Pablo Hasél, ultimately resulting in at least 15 arrests across the country.
Thousands of people gathered at Plaça Lesseps in Barcelona, while other demonstrations took place in Plaça de la Catedral in Lleida, Plaça Primer d'Octubre in Girona, and Rambla Nova in Tarragona, and more across Catalonia, and some in the largest Spanish cities too.
Tension, clashes, and arrests
Clashes and tension between protesters and police were seen in Barcelona, Girona, Vic, and Lleida. Officers did not let them approach the Spanish national police station on Carrer de Bosch, and in response, demonstrators threw objects at officers, including stones and glass bottles. The police tried to disperse them by firing bullets.
Some of the 1,700 protesters - according to Barcelona's local government - set dumpsters and motorcycles on fire at the crossroads between Via Augusta and Travessera de Gràcia, near a Spanish national police station.
Rally-goers tried to prevent riot police from approaching them by setting up barricades.
In Girona, clashes between attendees and officers were also witnessed, with the former throwing stones and firecrackers and the Catalan Mossos d'Esquadra using foam bullets to deter them.
In Lleida, the 5,000-strong march descended into riots, with clashes between officers and protesters, who burned down trash cans and local police motorbikes.
At least 15 people were arrested during the night's unrest across Catalonia, with three in the Catalan capital, four in Vic, and eight in Lleida.
The Catalan police force has informed that 17 of their agents were left injured as a result of the clashes. Eleven of those injuries came in Vic, four in Barcelona, and two in Lleida.
Medical emergency response teams attended to 33 injured protesters through the night, eight of whom were brought to a medical centre for further care.
Glorification of terrorism and slander against crown
Hasél was condemned to 2 years and 9 months behind bars in two separate cases by Spain's National Court for "glorification of terrorism" and "slander against the crown" and against Spanish law enforcement in the content of some of his tweets and lyrics.
Protesters in Barcelona called for his immediate release, as they believe it is against his freedom of speech to be detained for the content of tweets and lyrics.
He was given a 10-day window to voluntarily enter prison, but refused and barricaded himself inside the University of Lleida instead before police officers broke into the building and arrested the musician.
Conviction rejected arguing freedom of speech
Hasél's case has attracted media attention for a long time as his sentence prioritized the Spanish criminal code at the expense of freedom of speech.
Last Thursday, 60 cultural groups held an online protest, organized by the Catalan Academy of Music, while around 140 writers and journalists released a new manifesto defending the rapper a day before the court's prison deadline.
"Today it is Pablo Hasél, tomorrow it will be any other creator or performer from any other discipline," the event's manifesto read.
Jordi Évole, Rosa María Calaf, Manuel Rivas and Maruja Torres, were amongst the writers and journalists who released a statement in support of Hasél stating rap "is not a crime," even if the lyrics are unpleasant.
Thursday's outpourings of support followed on from another manifesto released earlier last week, entitled 'Without freedom of speech there is no democracy', whose 200 signatories included luminaries such as Catalan singer Joan Manuel Serrat, Spanish film director Pedro Almodóvar and actors Javier Bardem, Alba Flores and Aitana Sánchez Gijón.
No prison for 'verbal excesses'
Last Monday, the Spanish government said that it would propose not punishing "verbal excesses" in the arts with prison sentences.
The executive suggested that only behaviors that can "clearly" lead to risk against public order or spark violence would require prosecution, but never imprisonment.