8,500 protest on first anniversary of Russia's Ukraine invasion in Barcelona
Rally-goers marched from La Pedrera to Plaça de Catalunya square chanting 'Sláva Ukrayíni!'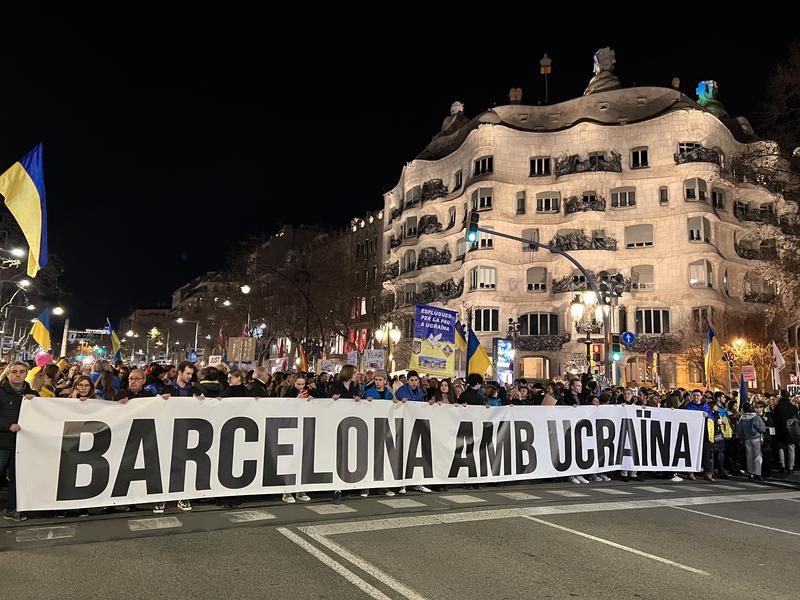 Almost 36,000 Ukrainians have lived in Catalonia in exile over the past year, mostly women and children, and hundreds of them demonstrated on Friday in Barcelona. Hundreds of Catalans accompanied refugees in a march marking the first anniversary of Russia's Ukraine invasion, overall there were 8,500 people according to the city council
Starting at 7:30 pm in front of modernism art nouveau architect Antoni Gaudí's La Pedrera in Passeig de Gràcia boulevard, the march rallied to Plaça de Catalunya square, where some members of the Ukrainian community read a manifesto.
Early in the week, Ukrainians called for a massive demonstration in the city center to remember and honor the victims of "terrible massacres" such as those in Bucha, Borodianka, Izium, and Mariupol.
During the march, many shouted Sláva Ukrayíni!' ("Glory to Ukraine!) as well as other chants against Russian president Vladimir Putin's invasion.
Demonstrators hold signs where 'Ukraine will win,' 'Put In, Put Out,' or 'Just peace!' could be read.
Just before the march started, Gloria Groziak, one of the organizers and a Ukrainian who now calls Catalonia home, thanked the territory for all the support and the humanitarian aid.
"Today is a very tragic day for a lot of Ukrainians. A very sad anniversary. This is why we have retaken on the streets to demonstrate to support Ukraine," she said to journalists just before starting the rally.
The rally was called on against "Russia's interest in conquering Ukrainian territories, but also in exterminating Ukrainian people." Refugees in exile also highlight that the message is "very simple but very important, we urge for Russia to withdraw its troops from Ukraine and for human rights and legislation to be complied with," Groziak added.
Since the start of the war on February 24, 2022, "Russian troops have murdered people and made mass graves. They have violated, tortured, and deported innocent people and left children orphaned…" the manifesto said.
According to the Ukrainian public prosecutor's office, 69,768 war crimes and attacks have left 461 Ukrainian children dead, 923 injured, 344 disappeared, and 16,207 deported.
While many Ukrainians have returned home or left Catalonia, around 21,500 refugees are still here, according to recent Catalan government estimations. Around 5,000 children are enrolled in schools.
A previous version of this article read there were 7,500 demonstrators, this figure was later amended following a rectification from the city council.