Humanitarian aid points for Ukraine: an interactive map
Various entities are gathering long-lasting food, clothes, medical supplies, and defence material to send to Ukraine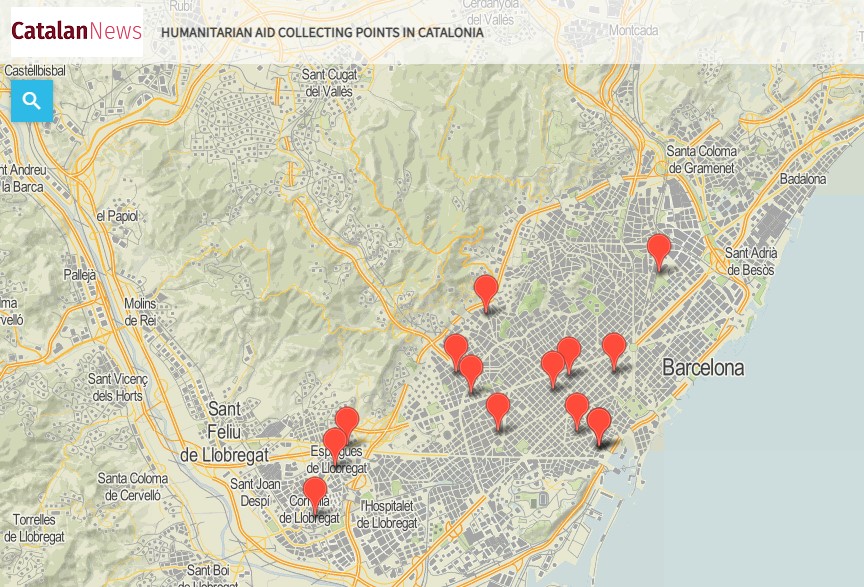 Catalonia's Ukrainian community has set up a number of points in Barcelona and beyond where donations of humanitarian aid can be made.
Several truckloads of supplies have already been dispatched, with the Ukrainian consulate in Barcelona coordinating the logistics of transporting the goods gathered by various groups.
The site where all the collected material ends up going is 9, La Rambla, in Barcelona, in a Greek-Catholic church. Vans and trucks are going to Ukraine from there.
Aid organizations are particularly seeking donations of defense material, first aid equipment, medicines, long-lasting food and warm clothes, as well as boxes to carry them and trucks and drivers to transport them.
Money to organize the shipment is also needed, and the NGO 'Sonrisas para Ucrania' has set up a bank account for donations: ES45 0081 0115 9800 0177 6682. They ask donors to write 'Ayuda para Ucrania' in the subject.
Check out the map below to see where you can donate. If you know more points, do get in touch with Catalan News at catalannews@acn.cat.
The Catalan government is working to also set up collection points at the Port of Barcelona and Fira Barcelona exhibition center.
Local councils across Catalonia have also set up collection points, for example in Terrassa, Montblanc and Badia del Vallès, but there are plenty more. Check with your local town hall for more information. Many sports clubs and associations are also offering their facilities to be used as donation centers, part of the Catalan Union of Sports Federations' Sport for Peace (L'esport per la pau) campaign.
The list of items requested includes sleeping bags, inflatable mattresses, blankets, pillows, towels, bed linen, heaters, generators of all kinds (and fuel), batteries, power banks, headphones, kerosene lamps, flashlights, kettles, drinking water storage containers, electric extension cables, detergents and personal care products, hygiene kits, soap, razors, wet wipes, toothpaste (for adults and children), toothbrushes, kitchen roll, metal tableware, disposable tableware (plates, spoons, knives, glasses) and kevlar helmets, as well as medicines, first aid material and food, especially canned goods.
Listen to our podcast on the impact of the Ukraine war in Catalonia with voices from those protesting on a daily basis to defend their country.