Pro-independence protests across Catalonia amid coronavirus concerns
Organizers estimate 59,500 participate in for National Day celebration with strict health and safety measures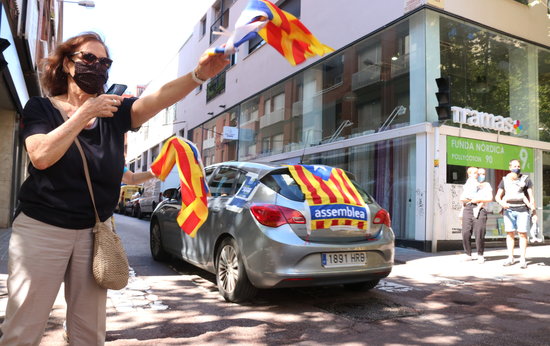 Catalan activists implemented "top safety measures" at all pro-independence events that took place on Friday, attracting 59,500 people and marking Catalonia's first National Day under coronavirus restrictions.
Since 2012, when the independence movement went mainstream, civil society groups managed to organize massive demonstrations in support of their cause every year coinciding with the 'Diada', as the September 11 celebration is known in Catalan.
This year, pro-independence groups faced an even greater challenge: recreating every year's massive show of popular support while respecting Covid-19 restrictions that forbid large gatherings.
Civil society organization Catalan National Assembly (ANC), behind these protests, had already given up on the idea of a large-scale demonstration and instead called for 131 small events in 82 different municipalities.
All the demonstrations had capacity limits, the largest of which was held in Badalona, just north of Barcelona, with 1,700 people. The smallest was in Taüll, in the Pyrenees, with a maximum of 12 people. On average, the decentralized events attracted between 200 and 300 people who had to sign up in advance.
The total turnout at the roughly hundred protests was 59,500 – very far from the official figure last year, 600,000, and the highest-attended edition, in 2014, when 1.8 million turned out.
Each protester was granted 4 square meters, according to the organization, and all events were seated.
Face mask use was required, as well as prior registration, which was checked at the entrance of each event where attendees were made to use hand sanitizer.
The meeting points were originally selected to target Spanish institutions, but the need to follow safety measures changed plans in several cases.
"This is the biggest demonstration adapted to Covid-19 in Europe," said ANC official Adrià Alsina.
Organizers also stressed the importance of holding these events despite the pandemic. "We have symbolic presidents, laws, and governments. We're not a symbolic country," argued ANC president Elisenda Paluzie at the event in Barcelona.
Meanwhile, the head of Òmnium, who was also at the Barcelona event, argued that "there will be no normality" in Spain "as long as people are persecuted, imprisoned, exiled, and abused by the [Spanish] state."
Health experts discourage September 11 rallies
Yet, despite the efforts of ANC to adapt to the pandemic's health and safety measures, health officials and experts advised against attending the protests, as did unionist politicians such as Carlos Carrizosa of Ciudadanos.
"It is not appropriate to hold them, gatherings are not good," said the public health secretary, Josep Maria Argimon, in an interview with Rac1 station.
Two of Catalonia's top epidemiologists, Oriol Mitjà and Antoni Trilla, also both discourage holding large-scale events for the National Day. "It's a risk we shouldn't take," Mitjà said in an interview on Catalan television station, TV3.
Protest from balconies and online
The Catalan government rejected attending any of the demonstrations and only three of its members took part in the customary floral tribute to Rafael Casanova.
Yet, ministers were at their balconies on Friday at 17:14 – the time and place of another initiative backed by ANC to demand independence despite Covid-19.
The host organization is also launched a virtual network of independence supporters through QR codes.