No lockdown 'in next two months' but gatherings limited at Christmas
Health department to launch a "more flexible" procedure to visit care home residents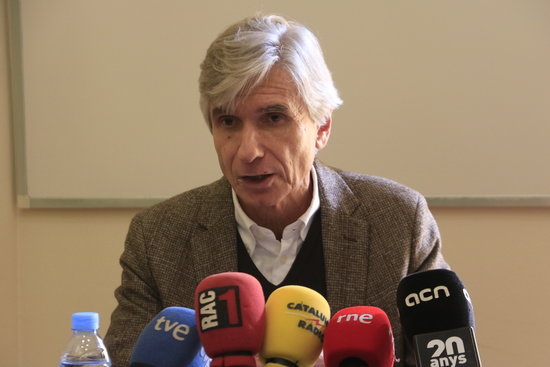 Catalonia will not be under lockdown "in the next two months" at least.
This is what the public health secretary, Josep Maria Argimon, said on Tuesday in an interview with Rac1 radio station.
He argued that the current figures "are not good" but the situation would require total confinement if the pace of new patients in ICUs grew as quickly as in the spring, something he does not foresee for the next two months.
"Europe was confined [in the spring] because its healthcare network could not respond, the number of people hospitalized was greater than the maximum capacity," he explained.
As an example, he said that one of Barcelona's top hospitals, Vall d'Hebron, had 56 ICU beds, but every day in late March, 24 more people needed intensive care per day.
"At the moment, the number of people in ICUs are stable at 130 to 140 across Catalonia," he said – at the peak of the health crisis, 1,529 people were in intensive care units at the same time. "The transmission rates are not rapidly increasing either," he said, not ruling it out as a future possibility.
Christmas with Covid-19 restrictions
Argimon also believes that for Christmas, the main restrictions in force now will still be in operation, such as mandatory face mask use and the ban on gatherings of over 10 people.
"Even if the situation is better then, we will all be more cautious," he said, also leaving up in the air how the traditional Three Kings parades will be held on the eve of January 6, Epiphany.
Last weekend, one of Catalonia's top epidemiologists, Oriol Mitjà, warned that the coronavirus is not yet behind us and said that 2021 will also be another "abnormal" year.
"Let's accept the idea that we still have 12 months left. In 2022 things will become normal," he added.
Sports and culture sectors struggling
As for when fans will be able to return to football stadiums, Argimon stated that it would be possible to keep safety distances during games, but warned that the main issue would be mobility before and after the matches.
While Argimon did not set a date, the president of La Liga, Javier Tebas, said that fans will not be back until "next January or February," when he believes a vaccine will have already been administered to a significant amount of people.
The Catalan public health secretary also expressed "concern" for the situation of theaters and cultural events and did not guarantee 100% capacity at such venues in the near future.
"From my point of view, the social and economic crisis is more important than the health one," he said.
Visits to care homes
Argimon also confirmed that the health department is preparing a "more flexible" procedure to allow for people to visit care homes residents.
The project includes enabling families to visit their relatives at least once a week, and for residents to go for walks outside the centers.
"Those in care homes will not die of Covid-19, but of sadness," he argued to emphasize the need to increase the number of visits to care home residents.
Against National Day demonstrations
Both Mitjà and Argimon sided against holding pro-independence demonstrations this Friday, marking the Catalan National Day.
"It is not appropriate to hold them, gatherings are not good," said the health official.